Grandpa has been away on holidays for a number of weeks. This was his first visit since his return home and he brought new silicone moulds for N, M and E for their play dough play. It had been a few weeks since we'd played with our homemade play dough. I opened the tub and gasp! It was mouldy. Maybe it was because our container wasn't air tight. Whatever the reason, it was no longer useable.
Lesson learnt: play dough can get mouldy!
I quickly opened up two tubs of store bought scented play dough. Thank goodness for that supply. Another lesson learnt.
Lesson learnt: always have a stock of back up store bought play dough.
There Grandpa stood, with his grandsons, gathered around the dining table, playing with play dough. What a heart warming reunion after a long holiday away.
It was time to make another batch of home made play dough. I wanted something that was quick and easy, something that did not need cooking. I found a fantastic recipe for Uncooked Oatmeal Play Dough in MaryAnn Kohl's book Mudworks.
Uncooked Oatmeal Play Dough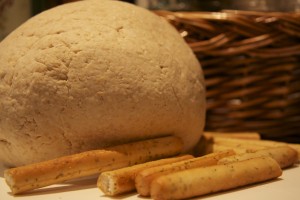 Ingredients:
1 part flour
2 parts oatmeal (I didn't have oatmeal, so used oat bran instead)
1 part water
Method:
Place flour and oatmeal in bowl
Gradually add water to flour and oatmeal.
Knead until mixed
So easy and quick to make – and no cooking required! YAY!!
The dough is grainy and a bit sticky. It looks like bread dough to me.  What do you think?
I've stored it in a plastic bag in the fridge so hopefully it'll last longer than our last batch.
Time will tell.
N & M: 3 yrs 4 months
E: 15 months