I have never coloured pasta for play. I have all the supplies needed. I know my kids will enjoy playing with coloured pasta. I am determined to make some coloured pasta for play and crafts. I just haven't done it yet. The drying space and time required has been my mental hurdle.
Just last week, my boys were keen to make something; an uncommon event which caught me unprepared. My eyes scoured around for something to work with. Our huge family sized bag of uncoloured pasta presented itself. I needed something quick to make the pasta snazzy. So, instead of coating our pasta with food colouring, we dressed them up in tin foil.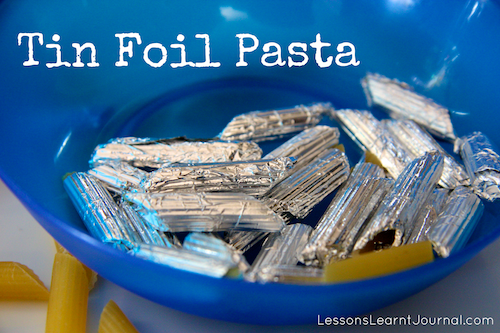 Materials to source: Tin foil, penne pasta
Set the stage for play:  Cut up small pieces of tin foil just large enough to just wrap around the edges of the penne. Roll up individual pieces of penne. (My preschool sons enjoyed helping me roll up the penne in the foil. My toddler was determined, but his fingers didn't seem to be on the same page as his determination). Press firmly around the edges and grooves of the penne for more definition. Place a combination of plain penne and tin foil penne in a large tray with some bowls and pipe cleaners.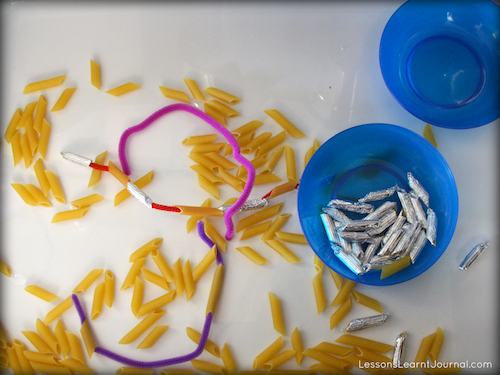 We sorted, poured and threaded pasta. My toddler enjoyed threading the pasta immensely.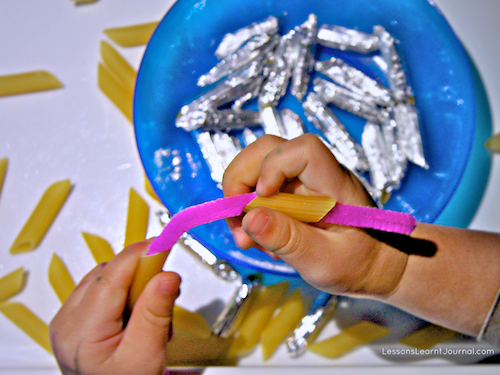 I extended the activity for my preschoolers to some simple sequencing of plain and tin foil pasta.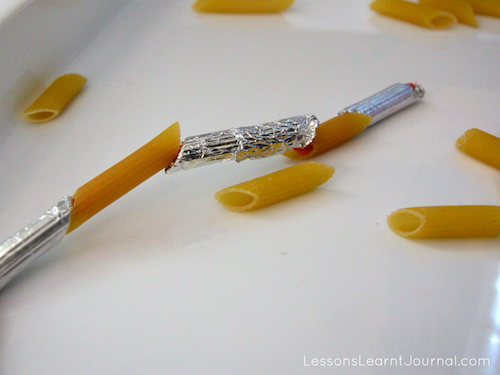 Tin foil pasta. A snazzy way to dress up pasta for play and crafts and here's my favourite part: no drying time required.
N & M: 4 years
E: 1 year, 11 months
June 2012