When sickness falls upon a family, and a family member is in hospital, most things come to a halt. Our usual daily routines stop; our everyday comforts like a cup of tea with our spouse stop; our easy nights' rest stops.
There are some human longings that continue despite sickness. We still long to be together as a family. We still long to talk to each other. We still long to be in each others' company. We still long for hugs and kisses, for shared meals, shared stories, shared laughs and shared prayers.
Here's my only Instagram this week. It captures a simple moment of being content, (not contentment in a bag of Oreos), but just being content whilst in the arms of a loved one.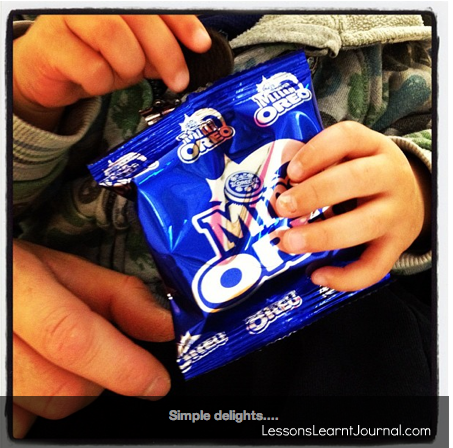 Forgive me for not featuring any posts from last weeks' Weekly Kids' Co-op. This week has been extraordinary. I hope to be back in the full swing of things again next week.
A lovely friend shared these words of council with me. It is wonderful to know we can rest content, in the arms of our Sovereign Lord and Creator.
I lift up my eyes to the hills.
From where does my help come?
My help comes from the LORD,
who made heaven and earth.
(Psalm 121:1-2 ESV)
 July 2012

What will you share this week?
Take a "Come and Play at the Weekly Kids' Co-op" badge from the sidebar and link up.
The Weekly Kids' Co-op is co-hosted by a group of 50 fun kids' blogs. Add your child-focused link here and we'll share your idea across all of our child-focused blogs. We'll pin the best on our very popular Weekly Kids Co-op Pinterest board (which has over 230,000 followers). Don't forget to follow The Kids Co-op on Facebook.