Are water beads really fun or is it just eye candy for mummy blogs? On a wet Saturday morning, while little E was having a nap, N & M had their first play with water beads on our DIY baby bath light table.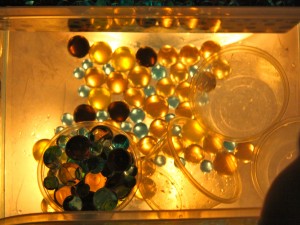 An assortment of water beads were placed in clear trays.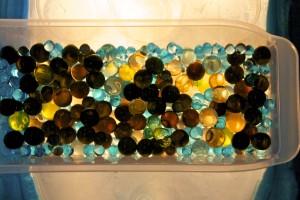 Little clear containers / cups were also provided.
There was scooping and pouring of beads, but before I knew it, N&M ran off to get their favourite action figures to join in the fun.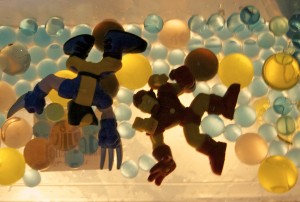 It was gelatine warfare revisited. Unlike the gelatine used in gelatine warfare, the water beads though wet and ever so slightly slimy feeling, was not sticky so the clean up was much easier. Also, the water beads that weren't crushed in the warfare are reusable. I think we have discovered a new favourite medium for messy play.
 Water beads did go flying as part of the play. A messy mat was most helpful (especially as we were playing on carpet).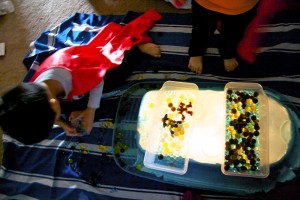 Lesson learnt: water beads are eye candy for mummy blogs AND they are fun to play with.
N & M: 3 y.o.
E: 15 months
This post was shared in the following linky parties:
No Time for Flash Cards Link & Learn