Our usual out-of-home activities are starting up again with the School Term starting up again in Sydney. It's nice to return to a bit more order and routine, but this morning's swimming lessons reminded me how tiring it can also be. Here's to the last term of the year – wishing all your families all the oomph one can muster as we speed towards Christmas and the New Year!
Here are our weekly books. I have marked our highly recommended books with an * and added them to the Lessons Learnt Journal Favourite Books List.
Dog by Matthew Van Fleet* This book is absolutely adorable. It has everything you love about a young children's book: rhymes, pull tabs, flaps, textures and great illustrations. To top it all off all the pages, tabs, flaps, etc are super thick and strong. A great first birthday gift.
The Pear in the Pear Tree by Pamela Allen* Another great book by Pamela Allen about John and Jane working together to get the pear in the pear tree. Terrific rhymes, illustrations, action and humour.
My Favourite Nursery Rhymes by Tony Ross* My husband and I grew up in families where English was not the dominant language while we were of preschool age. We learnt a few nursery rhymes, but weren't really immersed in them growing up. There are so many nursery rhymes out there. Some are cute, some fun and others I find just plain odd. N & M love nursery rhymes at the moment. This book contains a whole treasure trove of them. We only read the first few this week: Three Little Kittens; Pussy Cat Pussy Cat; What are Little Boys Made Of?; What are Little Girls Made Of?; I Had a Little Hen; There Was a Crooked Man; Two Little Dicky Birds; Ring-a-Ring o' Roses; This Little Piggy; Sing a Song of Sixpence; See-Saw Marjory Daw; Jack Sprat and One, Two, Three, Four, Five. We're very smitten by Three Little Kittens – "Miaow, miaow, miaow, now we shall have no pie".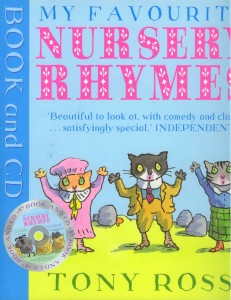 Tyrannosaurus Drip written by Julia Donaldson and illustrated by David Roberts* N & M love love love this book. I think it is their all time favourite book to date. It's a story about a duck billed dinosaur being accidentally placed in a family of tyrannosauruses. The story line is fantastic, it's filled with rhymes and the illustrations are great too. I bought the book and CD version and I think it's one of the best purchases I've made. N & M love listening to the CD (endlessly on repeat) and going through the book themselves. Imelda Staunton does such a fantastic reading of the story. A huge thank you to Jessie for the recommendation.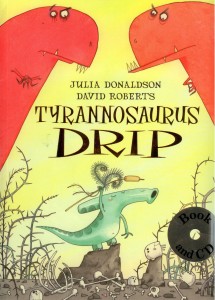 The Big Picture Story Bible by David Helm, God's Blessings Grow Part 9. We're continuing our journey through the Big Picture Story Bible. In all honesty, I think N & M are still a bit too young for this version – but no matter, we'll no doubt have the chance to revisit these stories again as they grow older. Even though the stories and concepts may go above their head at times, I have learnt that kids are like sponges. They take in what they can and whatever's too much, is left out. This week they took in the concept of Kings, and God 's plan to set up a King that will rule forever. Quite heavy concepts for 3 year olds.
What are you reading this week? Are there any books that you adore and highly recommend?
Share the love and leave a comment, and don't forget to check back for responses.
N & M: 3 y.o.
E: 15 months
Check out our Lessons Learnt Journal Favourite Books List.
Read about the whys and hows of our weekly books routine.
We are part of the following book sharing parties:
The Imagination Tree 5 a Day Books
Smiling like Sunshine Book Sharing Monday