It's 3 o'clock. I wish for that long awaited ding ding ding of the home bell, signalling the change of guards. Rest.

There is no ding ding ding of the home bell for the stay at home mum. There used to be the blessing of the afternoon nap, but my preschool twin boys no longer subscribe to it. A cup of tea used to be my quick three o'clock pick me up. The effects of that are wearing off at an exponential rate.

At those 3 o'clock moments, I'm desperate for some sort of play that's engaging for the kids, and requires minimal input and supervision from me. Tah dah! I would like to introduce our light activity box.
Gather all sorts of light related toys and gadgets into a box.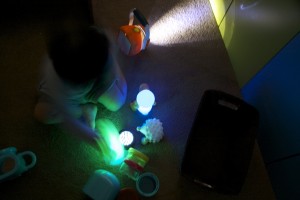 Torches, lanterns, coloured cups to stack on top of lights.
We even placed our toy periscope in our light activity box. The mirrors inside the periscope are fun to bounce light off. My kids are too young to grasp the science behind that – (but one day I anticipate the question shall arise.)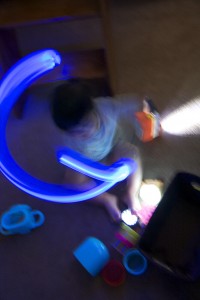 It's simple but intensely engaging. My favourite type of play – (and the kids love it too).
 Another KISS (Keep It Short & Simple) play idea.
N&M: 3 years 8 months
E: 1 years, 7 months
Check out other Short & Simple play ideas.
This post was shared with
It's Playtime
For the Kids Fridays
Play Academy
Sunday Showcase
Sharing Saturday