In stark contrast to our Winter blues last week, this week has seen the quick return to our usual home rhythm.
We are together again as a family and we are working, resting and playing together in rain, hail or shine.
Here's my favourite Instagram this week. Our driveway was littered with these beautiful red Poinsettia petals. The pavement was wet, but the sun was shining and the boys were keen to have some tricycle races.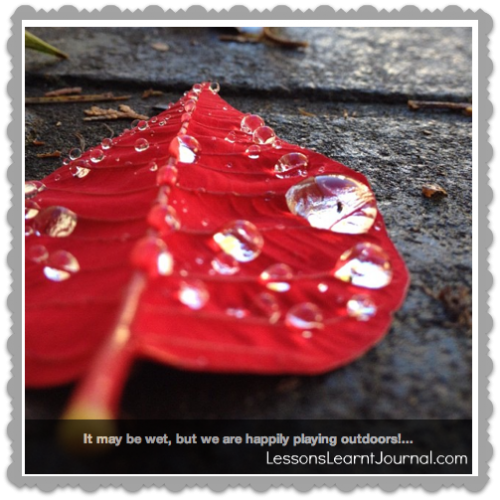 Children play regardless of the rain, hail or shine; don't fight it – play along. Here are some great plays from last week's weekly Kids' Co-op:
July 2012
Were you featured today?
Please take a "Featured at Lessons Learnt Journal" badge from the sidebar.
What will you share this week?
Take a "Come and Play at the Weekly Kids' Co-op" badge from the sidebar and link up.
The Weekly Kids' Co-op is co-hosted by a group of 50 fun kids' blogs. Add your child-focused link here and we'll share your idea across all of our child-focused blogs. We'll pin the best on our very popular Weekly Kids Co-op Pinterest board (which has over 260,000 followers). Don't forget to follow The Kids Co-op on Facebook.