Kindness. I have enough trouble teaching my kids to use the potty, (we're in the midst of toilet training Mr 2.5yo E). How do I teach my kids to embrace the life shaping concept of kindness?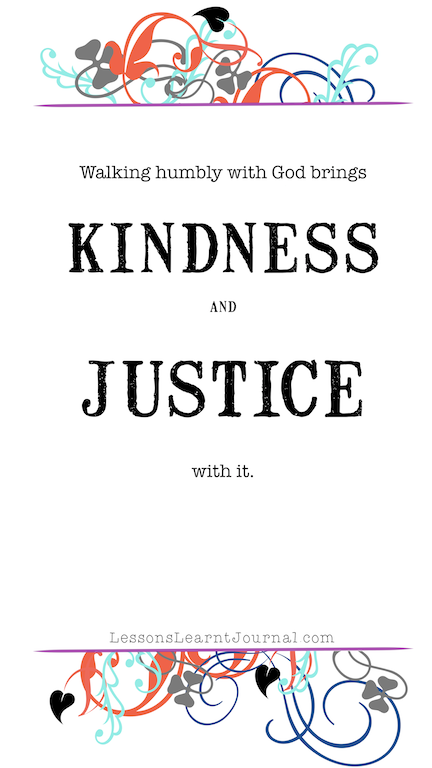 There have been and will be many discussions about kindness with my kids. There will be times when I will have to reproach them for their lack of kindness. There will also be times when I will praise my kids for their kindness.

Words of instruction have their place, but as many parents can testify, kids don't follow what we tell them; they follow what delights us. They live with us. They are witnesses to who we are, our words and deeds. They know what makes us tick, what we are passionate about, what we delight in.

Why should they love kindness and do justice?  Why should I love kindness and pursue justice? What can loving kindness and the pursuit of justice do in a world where evil seems overwhelming? Why bother at all?

My kids aren't old enough to ask such questions yet. My answer may change when they do. But for now, here is what I will tell them:
God loves me and has saved me at a great price (through Christ Jesus).
I trust God.
A humble heart before God will love kindness and pursue justice, because God is kind and just.
I seek to be kind and just because I am saved by God.



"With what shall I come before the LORD,

and bow myself before God on high?

Shall I come before him with burnt offerings,

with calves a year old?

Will the LORD be pleased with thousands of rams,

with ten thousands of rivers of oil?

Shall I give my firstborn for my transgression,

the fruit of my body for the sin of my soul?"

He has told you, O man, what is good;

and what does the LORD require of you

but to do justice, and to love kindness,

and to walk humbly with your God?

(Micah 6:6-8 ESV)
January 2013