Ah, my bottle cleaning brush. The countless times I've used it to clean those milk bottles. It only seemed like yesterday. Now my kids are five and bouncing up and down, asking me, "What are we doing today?". I grab that bottle cleaning brush, along with a few other unlikely painting tools for our quiet time play kit. "We're painting today guys. You'll love it. Let me tell you about this bottle cleaning brush….".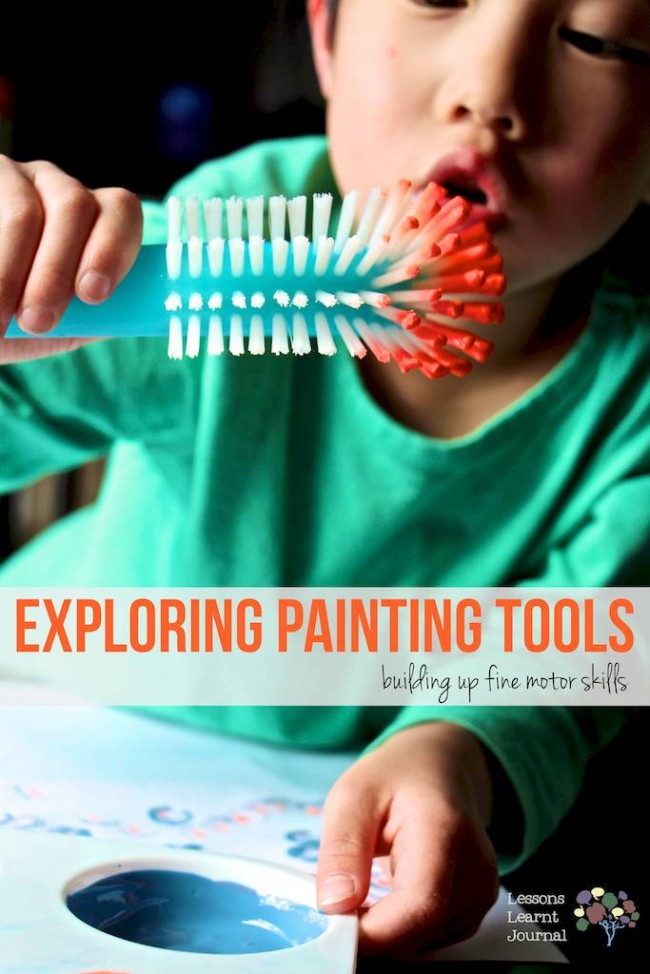 When kids are involved in creating art, they are surrounded by many opportunities for them to develop their fine motor control. Fine motor skills refers to the strengthening of small muscles in the hand which are used in fine movements. These skills are demonstrated in grasping, manipulating and hand-eye coordination.
Encouraging children to build up their fine motor skills is important. Poor fine motor skills can affect the legibility of their handwriting, which contributes to the development of their literacy / communication skills. The stronger their fine motor skills, the easier it will be for them to manipulate and control a range of materials and tools. The easier they find handwriting, the less obstacles there will be to the (already complex) process of learning to write.
Exploring Painting Tools
Here's a very simple, open ended art activity for kids, that builds up their fine motor skills.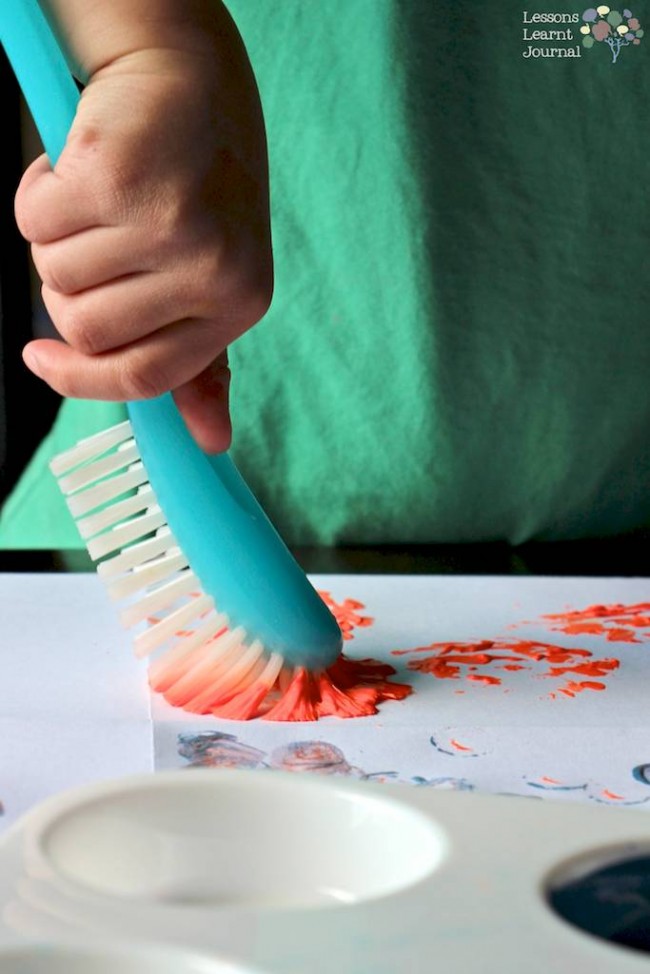 You'll need:
A3 sized paper (or larger)
A selection of paints
A selection of unusual things to paint/print with. We have used a few bottle cleaning brushes, plastic forks, plastic knives, sponge nerf gun bullets, novelty shaped sponges.
Divide the piece of paper into four by folding it into quarters.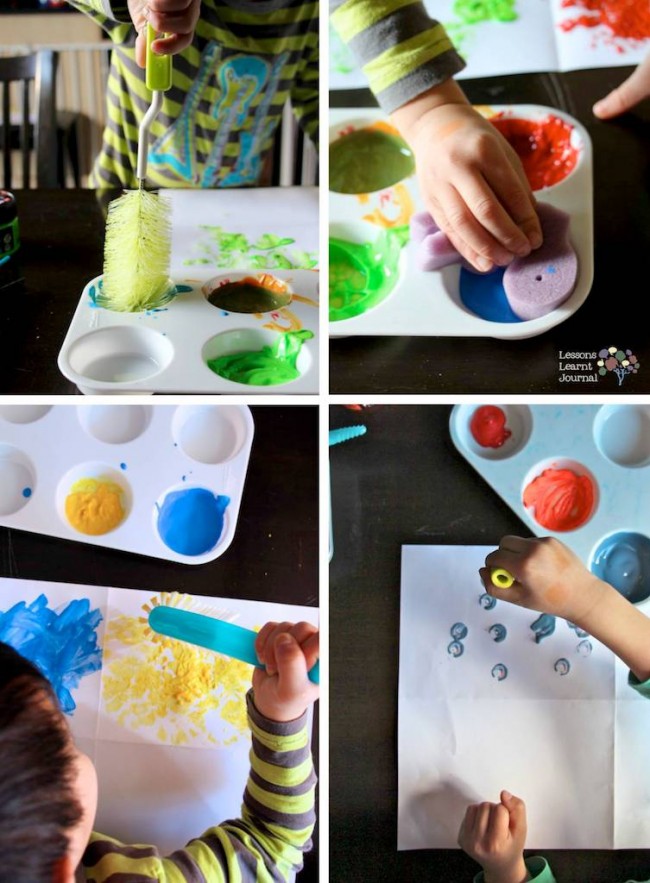 Paint each quarter using a different painting tool. Experiment with different ways to use the tools.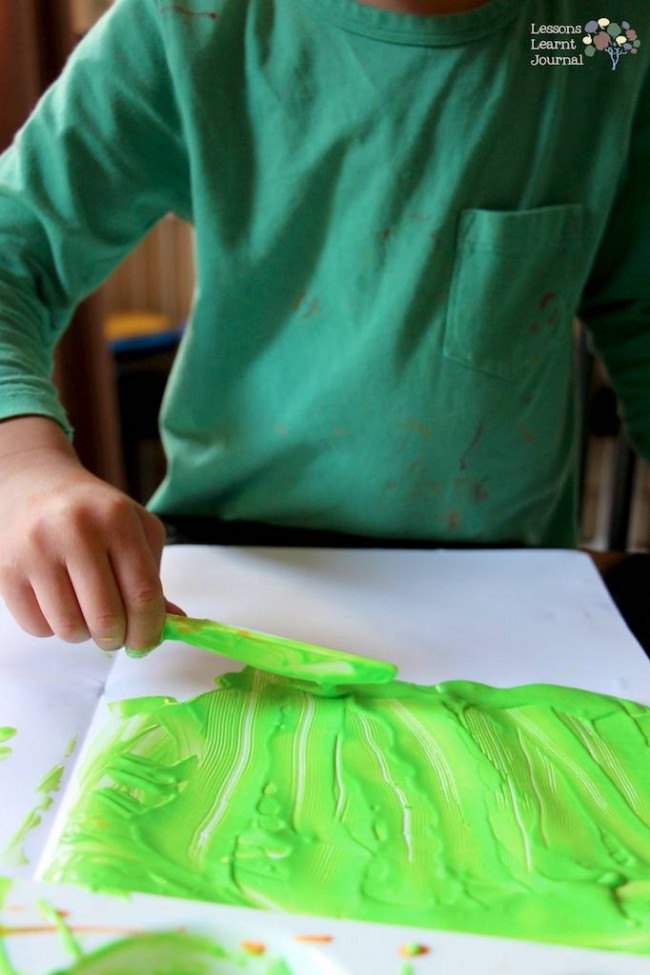 I also let the boys mix up their own colours – (eventually we got that standard brown/grey paint happening).
What are some painting tools your kids enjoy using?
More Activities for Preschoolers
Three to Five: Playful Preschool is stuffed to the brim with tried, tested and loved playful learning ideas for preschoolers. There are 25+ ideas for preschoolers, ten printable resources and additional links to over 50 more activities. A great resource for parents. Download your copy here.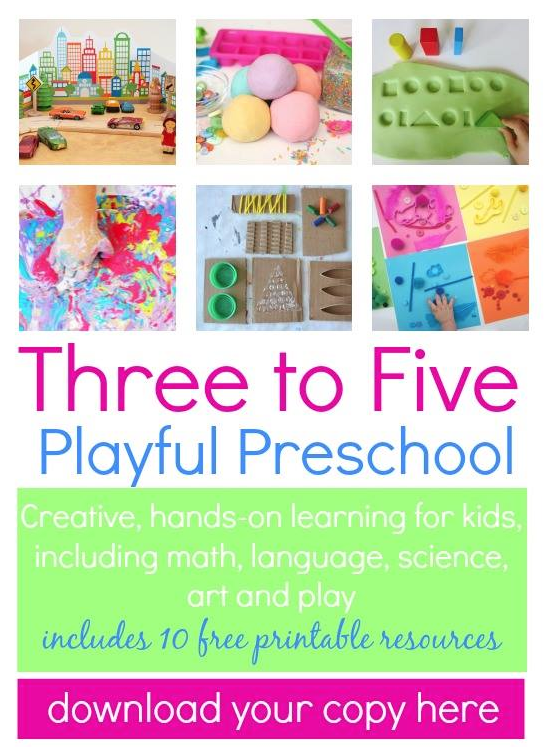 N&M: 5 years, 3 months
Sept 2013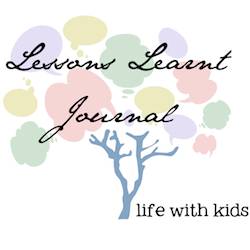 If you enjoyed this post, please consider leaving a comment; I'd love to hear from you. If you are new here, you might like to receive updates direct to your email. We have many fun ideas to share.