Educational games are an invaluable part to teaching and learning, but all educational games are not created equal. There are some educational games that are much better than others. Every parent and teacher should know about rich educational games. The rich educational games framework is an incredibly helpful and simple tool for teachers and parents to use, to assess the quality of educational games on offer.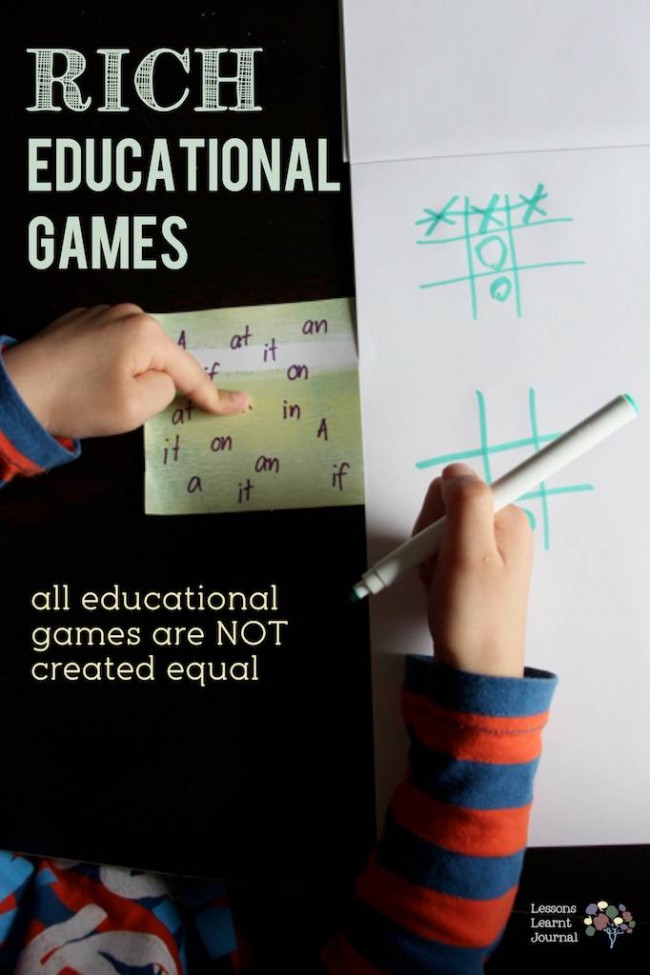 I'm all for engaging with material and higher order thinking. That's when we get those wonderful creative, possibility transformative moments. However, to get those moments, certain skills must be learnt and mastered. Practise can't be avoided. Discipline and persistence is required.
I started playing the piano at the age of four. I continued learning for many years, and to this day, one of my favourite pieces to play is Debussy's prelude Bruyeres (Heather); a beautiful piece of music in every way.
I can't begin to tell you the hours I spent over the piano practicing scales in every key and form. To get my technical skills up so that I could play and enjoy pieces like Debussy's prelude Bruyeres, I had to practise scale after scale after scale.
So it is with reading. There are certain skills in reading that need to be practised and practised, and can only be mastered through practise.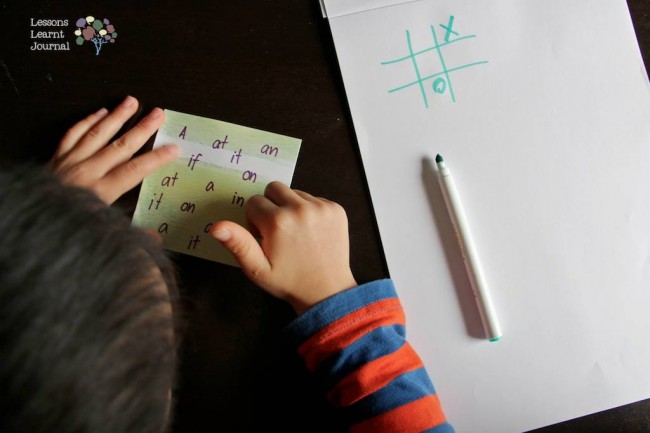 There is a tension, as a parent and a teacher, to persist with children in the practising of these skills. Repetition can't be avoided. They need to keep practising to learn this certain skill. However, we don't want them to come to a point where they hate it so much that they give up on it all together.
That's where educational games help immensely. Rich educational games in particular. At university, we had to learn how to develop teaching resources; and rich educational games are wonderful teaching resources.
Rich educational games have the following characteristics:
Have clear learning objectives to be met
The game matches the learning objectives
Materials are practical and reusable
Can be completed in 10-20 minutes
There's an element of chance
There are clear rules & structure
Clear end or winner
Caters for a range of abilities or has prepared variations
Strategies can be developed to improve the likelihood of winning
Is fun to play.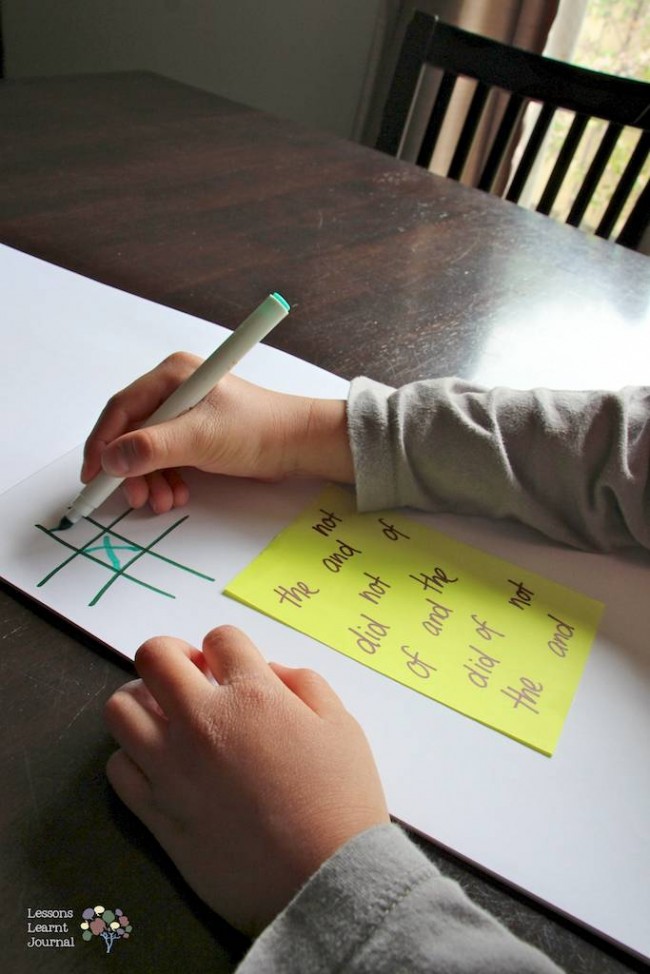 Believe it or not, the old as time game of naughts and crosses can be used as an educational rich game. Here's how we've adapted it to create a rich game for sight words.
You'll need two pieces of paper. On the first piece of paper, write out the sight words that need practising. You can duplicate the words a few times on the paper if you have space. The second piece of paper is for playing naughts and crosses.
Ask the child to point to a given sight word. If they get it right, they get to put down a naught/cross. If they get it wrong, you put down a naught/cross. Continue until there's a naughts and crosses winner (i.e. someone completes a straight line of naughts or crosses). Once one game has finished, quickly draw up a new one and play for the next 10 minutes. Challenge them, the winner is the best of 5 or 10 games, etc.
In another version of the game, you can point to a given sight word and ask the child to read that sight word.
(It's helpful to note that being able to identify a word and being able to read/name a word are different skills, so make sure you practise both).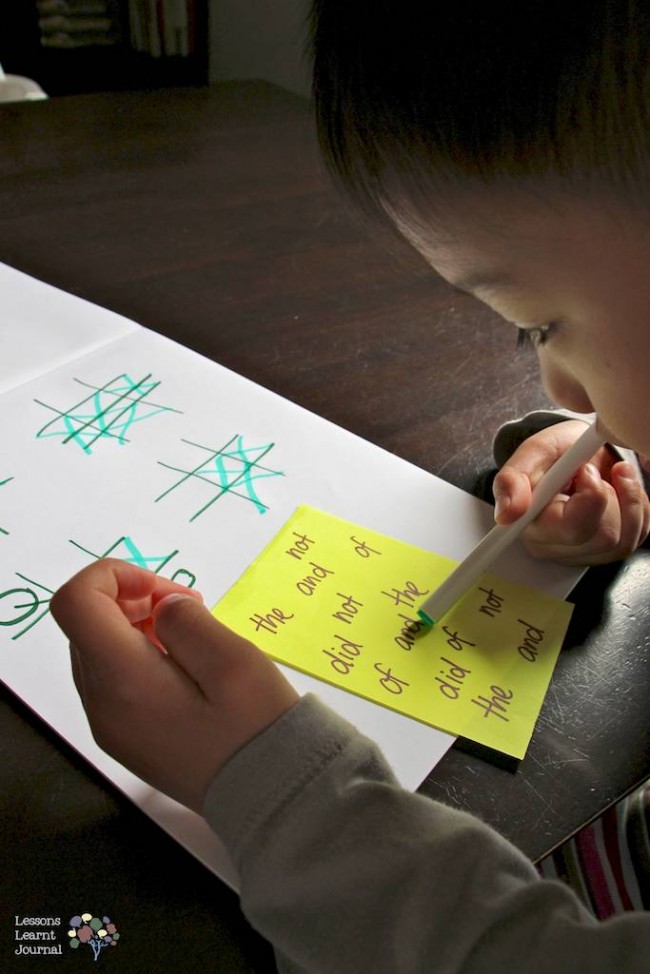 This rich educational game of naughts and crosses can be used in so many ways. We've used it to practise the sound of letters, the names of letters as well as identifying them, the names of numbers as well as identifying them, reading cvc words, etc.
What educational games have been most helpful for your children?
N&M: 5 years, 5 months
November 2013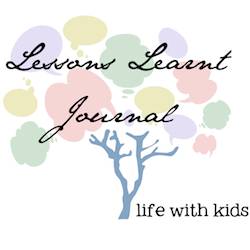 If you enjoyed this post, please consider leaving a comment; I'd love to hear from you. If you are new here, you might like to receive updates direct to your email. We have many fun ideas to share.