This post is sponsored by Nuffnang. All opinions expressed are my own.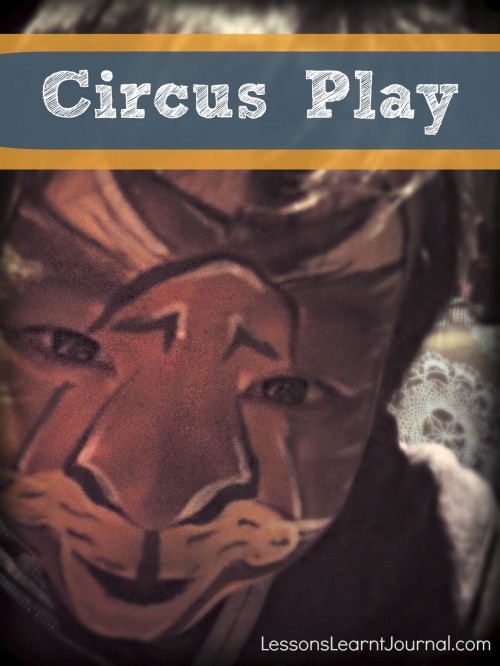 Twin four year old boys, a two year old boy, an eight month old baby girl and two wide eyed parents. There we were, confined in a dark room, with strangers. How long do you think we lasted in that dark room?

Let me blow your socks off. We were in there for over 95 minutes. I kid you not. Over 95 minutes.

Not a tantrum was had while we sat in that dark room; there was none of that mad dash or rumble, normally associated with my young brood. Albeit, our eight month old baby needed the occasional rocking; but she was, for the most part, settled.

What wonderful event conjured such a rare contented stillness?

The venue: Gold Class Event Cinemas. Think: big comfy chairs; ample space; kids able to see the screen without a booster seat, no matter where they are in the cinema; and the food – oh, the food! Forget the popcorn; they serve amazing MEALS; (yes, capitals well deserved).

The movie: DreamWorks Animation's Madagascar 3: Europe's Most Wanted. You would think, with a circus theme, it would be pretty darn hard to leave your audience impressed. Expectations for creativity and entertainment are high. Yet, our entire family was thoroughly entertained. My sons are active. To have them entertained for 95 minutes, in a cinema, is no ordinary achievement.  The movie also had my husband and I wowing and chuckling away. Again, this is no ordinary achievement given that we had four kids under five with us at the cinema, (i.e. high underlying stress levels).

After a most splendid movie experience, we dashed off to do some Circus Arts of our own.

Check us out…

A child's work is play and observing a child play never ceases to amaze me. Inspired by Madagascar 3, here are 10 ways my children incorporated circus play into their play.

1. Face Painting. Lions, tigers and bears. Perhaps add some zebras, giraffes, seals, elephants and monkeys to your act. The possibilities are endless.
2. Flying Trapeze. Get on a swing and fly through the air to your heart's content.
3. Hula Hoops. The trick is to sway backwards and forwards, not sideways.
4. Jump Through Hoops.  Do the impossible and jump through that tiny hoop.
5. Throwing Balls Through Hoops. Place the hoop at varying heights and angles to jazz it up.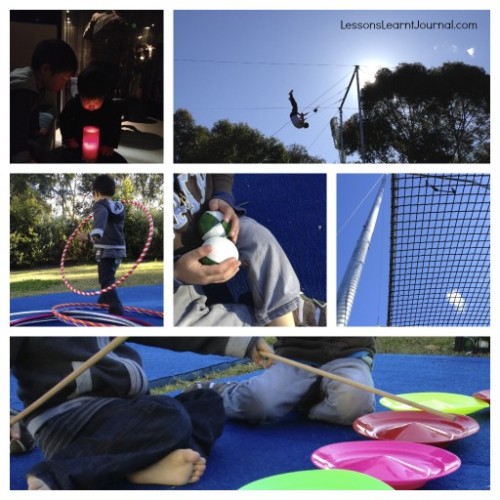 6. Juggling. For under 5's, throwing and catching one ball is juggling. Wouldn't you agree?
7. Tightrope Walking. Place a skipping rope or mark out a path with masking tape on the floor and walk on it, placing heel to toe, heel to toe; or perhaps you prefer the sideways shuffle like our Mr. Two Year old.
8. Spinning Plates. Balancing a plate on the end of a stick is fun enough. Spinning a plate on the end of a stick would be great, but even the pros had a hard time doing that.
9. Circus Music. Grab a few plastic plates and sticks to start up some funky circus rhythms.
10. Create a Circus Atmosphere Through Lighting. Don't forget the finer details; use a dim room with a lamp, combined with a torch for a spotlight, to create that magical circus ring atmosphere.
Win Fantastic Madagascar 3 Prizes

To help you create your own circus play memories, we're giving away these fantastic Madagascar 3 Prizes:
1 x Madagascar film poster; (valued at $25)
1 x Madagascar watch; (valued at $10)
1 x Madagascar Passport cover and luggage strap (travel set); (valued at $15)
1 x Madagascar circus set (juggle bag); (valued at $25)
1 x Madagascar 3 circus tent; (valued at $75)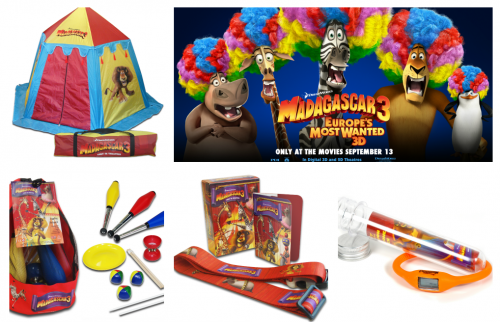 For a chance to win one of the above prizes, tell me if you could be an animal, what would it be and why. We're looking for fun, creative answers. Click here for the Terms and Conditions. Entries close 13th September 5pm AEDST.
Now, enjoy making your circus play memories. Go check out , DreamWorks Animation's Madagascar 3: Europe's Most Wanted, only at the movies September 13th.
 Book your family Gold Class Tickets at EVENT CINEMAS.
Plan your circus training party at CIRCUS ARTS.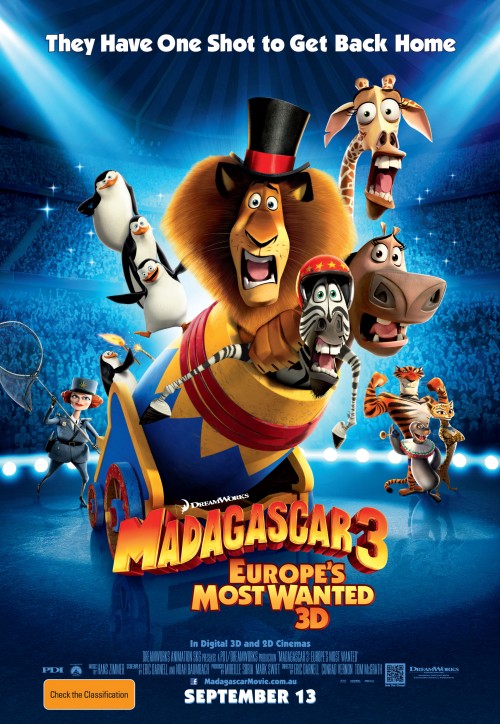 N & M: 4 years, 2 months
E: 2 years, 1 month
K: 8 months
September 2012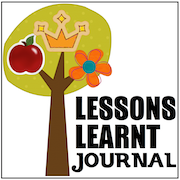 MADAGASCAR 3: EUROPE'S MOST WANTED (C) 2012 DreamWorks Animation L.L.C.