Singing carols (by candlelight) is one of my favourite things about Christmas. I can't help but beam throughout the carol, Angels We Have Heard on High; belting out "Glo – – – – ria in excelsis Deo!" with other carolers is just plain fun.

What an extraordinary announcement!
And in the same region there were shepherds out in the field, keeping watch over their flock by night. And an angel of the Lord appeared to them, and the glory of the Lord shone around them, and they were filled with great fear. And the angel said to them, "Fear not, for behold, I bring you good news of great joy that will be for all the people. For unto you is born this day in the city of David a Savior, who is Christ the Lord. And this will be a sign for you: you will find a baby wrapped in swaddling cloths and lying in a manger." And suddenly there was with the angel a multitude of the heavenly host praising God and saying,
"Glory to God in the highest,
and on earth peace among those with whom he is pleased!"
(Luke 2:8-14 ESV)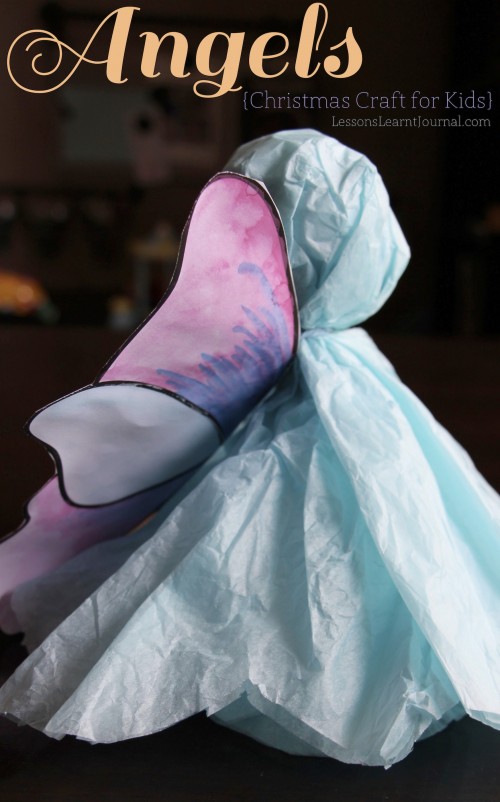 Christmas Crafts for Kids: Angels

You'll need:
Tissue Paper
Rubber Band
Scrap A4 paper
Printout of Angel Wings Template
Paint (we used water colour paints)
Brushes
Cup of water to rinse brushes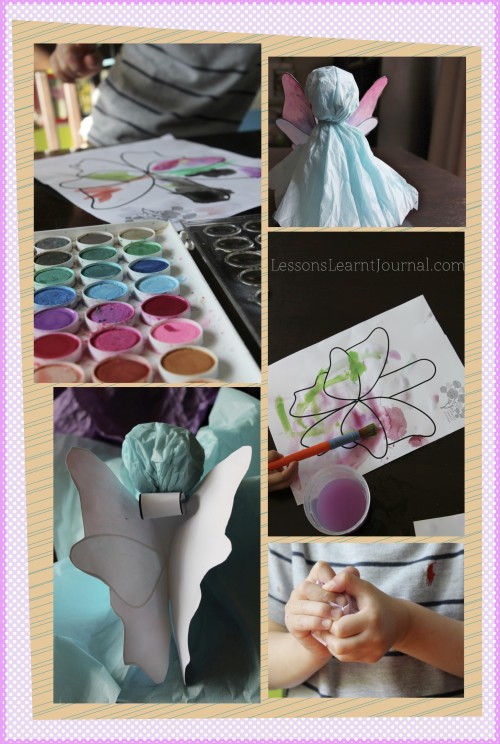 Method:
Paint your angel wings and let it dry.
Scrunch up your scrap A4 paper into a ball; this will be your angel's head
Wrap tissue around the paper ball and using your rubber band, section off the head from the body by wrapping it under the head a few times.
Cut out your angel wings.
Tie the angel wings to your angel by tucking the long middle bit under the rubber band sectioning off the angel's head.
Finish your Christmas angel craft by fluffing out the body of your angel and spreading the wings slightly so it may be more clearly seen from the front.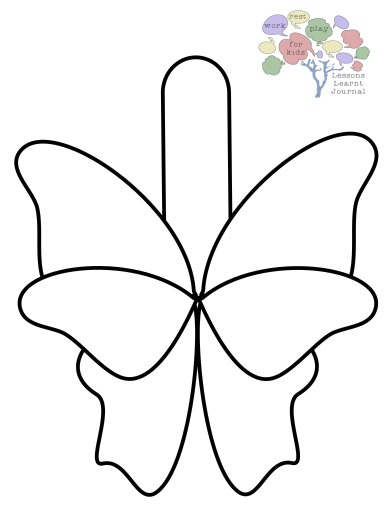 The angels brought good news; such good news that thousands of angels celebrated and sang at the top of their lungs, "Glory to God in the highest, and on earth peace among those with whom he is pleased!"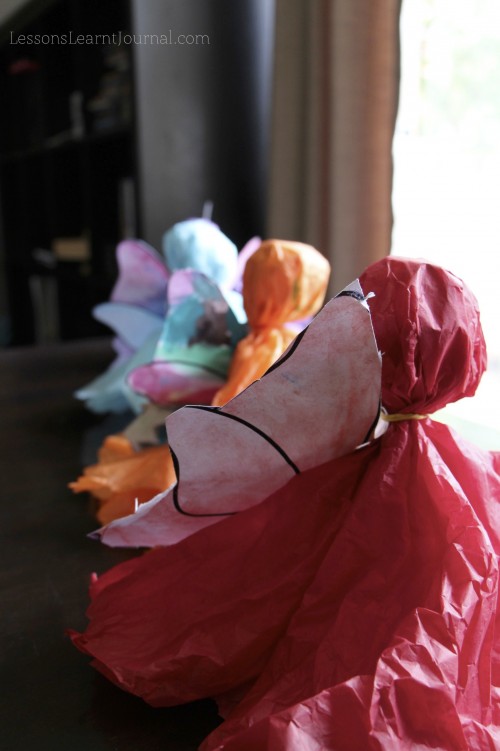 It's not every day that angels talk to men. It's not every day a King is born.
God has provided a way for people to return to Him. God has provided a way for us to have peace with Him; to no longer be at war with Him.
Jesus is God's peace. He was born in a little stable, in Bethlehem.
N&M: 4 years, 6 months
E: 2 years, 5 months
December 2012