The time has come. Miss K will begin daycare this week. Mr E will head back to preschool this week. Mr M and Mr N will be starting Kindergarten next week. I will be heading back to school as a Kindergarten classroom teacher this week. The thought of a strong cup of coffee has planted itself in my mind as I just typed all of that. There are uniforms to be washed, bags to be packed, kisses to given and lunches to be packed…. (for the next 15 years). Lunch ideas for the next 15 years. Again – a strong cup of coffee, please.
To start us off, here are 38 everyday snacks, tried, tested and loved by my brood of four.
These 38 everyday snacks are easy, quick, no cooking/baking required healthy snacks. Perfect lunch ideas to help fill those lunch boxes and tummies. Yummy goodness to keep those bodies and minds happy.
Most schools / preschools / daycares in Australia promote a nut-free environment. As such, I have not included nuts on our list, (even though Mr E loves them to no end). Some of the items below may contain nuts (e.g. muesli bars), but I have found nut-free versions of these items at the grocery store, and as such have included them on the list.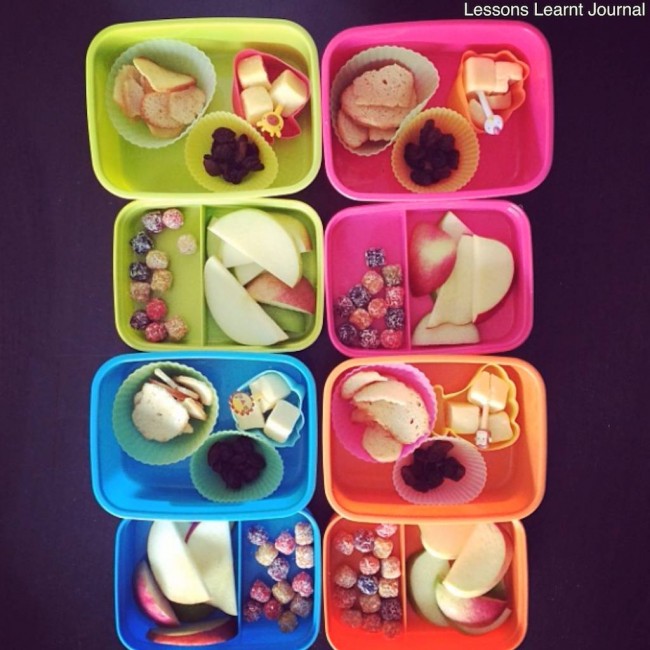 Fruit
1. Apples
2. Bananas
3. Combination Fruit Cups
4. Dried Apricots
5. Fruit Puree
6. Fresh Fruit Salad
7. Kiwifruit
8. Mandarines
9. Mangoes
10. Nectarines
11. Pears
12. Prunes
13. Strawberries
14. Sultanas
15. Watermelon
16. Rockmelon
17. Blueberries
18. Raspberries
Dairy
19. Yoghurt
20. Cheese
21. Custard

Biscuits
22. Crisp bread
23. Crackers
24. Rice Sticks
25. Fruit Slice Biscuits
26. Oatmeal Biscuits
27. Rice Crackers
Misc
28. Fruit Bars
29. Muesli Bars
30. Fruity Bites
31. Popcorn
32. Fruit Juice
33. Carrot & Celery Sticks
34. Hummus Dip (for carrot & celery sticks)
35. Beetroot Dip (for carrot & celery sticks)
36. Toast with vegemite
37. Raisin toast with jam
38. Cereal (eg cheerios, weetbix honey bites)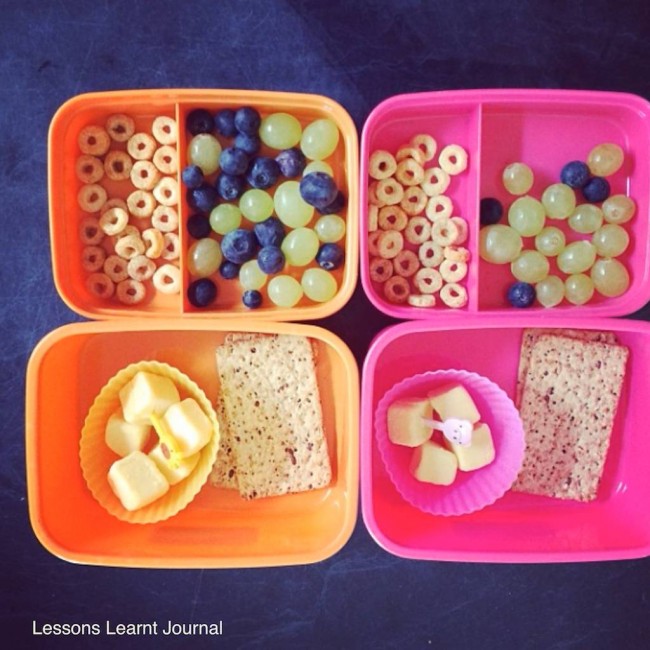 I'm sure this list will grow over the next 15 years. I've been having so much fun sharing our lunch ideas on Instagram and Facebook. Thank you to all of you who have commented or liked our lunch ideas. I would love to see your lunch ideas too. Please tag me on Instagram (@pauline_lessonslearntjournal) – 15 years worth of lunch ideas is a very long time and I can use all the help I can get. What other everyday snacks should I add to this list?
K: 2 years, 3 months
E: 3 years 6 months
N&M: 5 years 7 months
January 2014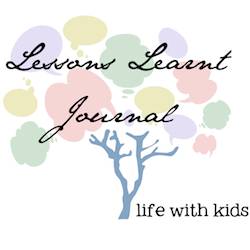 If you enjoyed this post, please consider leaving a comment; I'd love to hear from you. If you are new here, you might like to receive updates direct to your email. We have many fun ideas to share.