Our car finally reaches its' destination. It's late. It's dark. The kids are tired. My husband and I are tired. I open the car door. The crisp fresh air wakes me up. Relishing a deep breath, I step out of the car. I instinctively look up. We've escaped the city lights and above us we can see beautiful pinholes of light sparkling in the vastness of the heavens.
Stars have always fascinated my children. Whenever we are out at night, they are keen to point out where the stars are.
When I invited Mr E (2yo) to bake some star kids cookies, it was met with a very excited, "Yay!"
These easy star kids cookies are great for any budding toddler baker. Like our easy peasy cookies, the dough for these kids cookies is quick and easy to put together; and the decorations for the stars while simple, are gorgeous.
Kids Cookies Dough Ingredients:
100g softened butter
1/3 cup brown sugar
1 cup plain flour
1 tablespoon water
1 teaspoon vanilla paste
For Decorating the Star Kids Cookies:
Silver cake decorating balls
Method:
Combine all the Kids Cookies Dough ingredients in a mixing bowl and mix until the dough is ready.
Roll out the dough onto a lightly floured surface using a rolling pin; or pat down the dough with the palms of your hands.
Cut out star shapes with star shaped cookie cutters and decorate with silver cake decorating balls
Lay out baking paper onto a flat oven tray and place the biscuits onto the tray.
Bake at 150C for 15 minutes
Let the biscuits cool; (this is the tricky bit).
God made the stars; this simple truth is one of the first things we teach our children. When I consider that statement, I am utterly humbled. The vastness and beauty of the heavens is overwhelming. My head spins at the mere thought of how much space is involved and how far everything is from us. Yet God not only made the stars, He numbers every star and also calls each one by name.
The heavens declare the glory of God,
and the sky above proclaims his handiwork.
Day to day pours out speech,
and night to night reveals knowledge.
(Psalm 19:1-2 ESV)
When I look at the stars, I see my Heavenly Father's majesty. He created all the stars and calls them by name. He made me, and knows my name. I am utterly humbled.
More Activities for Preschoolers
Three to Five: Playful Preschool is stuffed to the brim with tried, tested and loved playful learning ideas for preschoolers. There are 25+ ideas for preschoolers, ten printable resources and additional links to over 50 more activities. A great resource for parents. Download your copy here.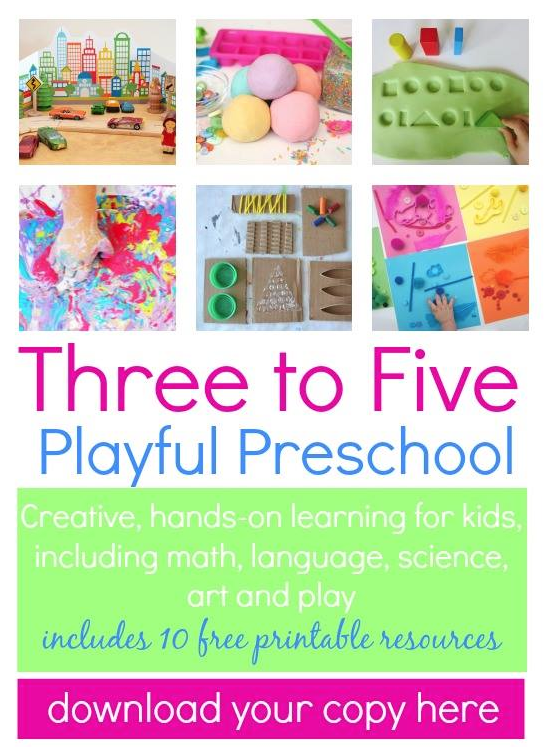 If you enjoyed this post, please consider leaving a comment; I'd love to hear from you. If you are new here, you might like to receive updates direct to your email. We have many fun ideas to share.
E: 2 years, 4 months
November 2012