"Ahh… work out. I miss that. What type of workout did you do?"
"Insanity – heard of it?"
I think to myself, "Insanity. Yes. Most mums know it very well. We try to avoid it. Is this a workout that we want to avoid?"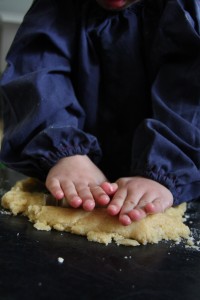 Turns out that Insanity is a type of fitness program on DVD. A quick google search reveals, "The secret to the Insanity workout is max interval training, where you do long bursts of maximum-intensity exercises with short periods of rest". The promo video ends with "Are you ready?". I answer, "No."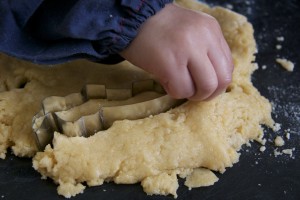 Ever notice how the rhythm of the home is like a workout? There are periods of maximum intensity followed by periods of rest. There are days that are Insanity type days: long bursts of maximum intensity followed by short periods of rests. Those days are hard work.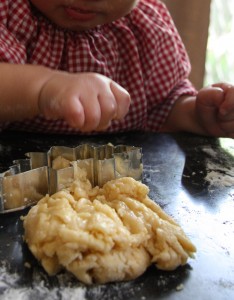 I try to plan my days so it's not long bursts of maximum intensity followed by only short periods of rest. I would like to keep my sanity, thank you. A key part to this is to have one planned activity to engage the kids in the morning. It could be anything, so long as I'm giving them my full attention for a period of at least 15 minutes. Making easy peasy cookies is one such activity to help keep my sanity.
EASY PEASY COOKIES
Ingredients
250g plain flour
125g sugar
125g butter
1 egg
1tsp baking powder
few drops of essence
Method:
1. Preheat your oven to 180C
2. Place all the ingredients in a bowl and mix.
3. Roll out the cookie dough and cut out your shapes. (We used dinosaur cookie cutters).
4. Place cookies on a baking tray that has been lined with baking paper and bake for 20-30mins (or until golden).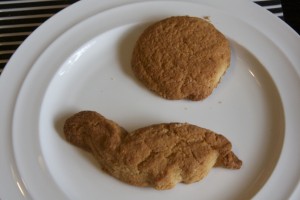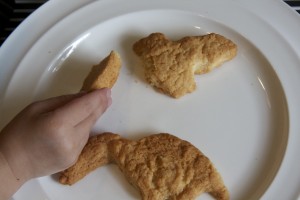 N&M: 3 years, 7 months
E: 1 year, 6 months
This post was shared in the following linky parties: