I have the hardest time figuring out gifts for Fathers Day. Our secret message in a bottle worked a treat, but now to think of something new. I spend hours brainstorming, what does he like? Then it hits me. DUH! He loved our rocky road with red frogs and toblerone, (just minus the red frogs and add a few of his favourite things).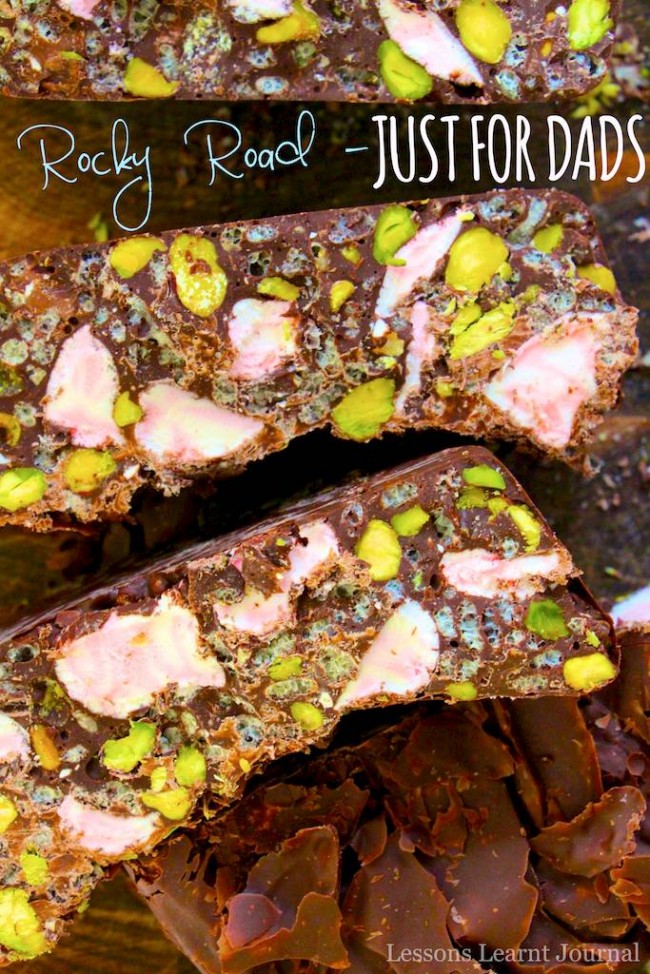 A million thanks to Jackie from My Little Bookcase for sharing her 'secret' ingredients, pistachio, or rice bubbles, when she makes rocky road for kids. I shared this with hubby as we gobbled down our last batch of rocky road. His eyes lit up at the suggestion of pistachio and rice bubbles. (I didn't tell him that rice bubbles were for kids, because I thought it sounded down right delicious too!).
As you can tell by the close proximity of my two rocky road posts, published less than a month apart from each other, I have truly been converted into a rocky road fan. You basically get to mix your favourite things you love to nibble on, in chocolate. What's not to love?!
After something to make for Fathers Day? Create some rocky road, just for him. Get a mix of his favourite nibbles, fold it in some chocolate, this part is really important – clean out that mixing bowl, let it set, cut it up, restrain yourself from devouring it. It's so simple (and delicious).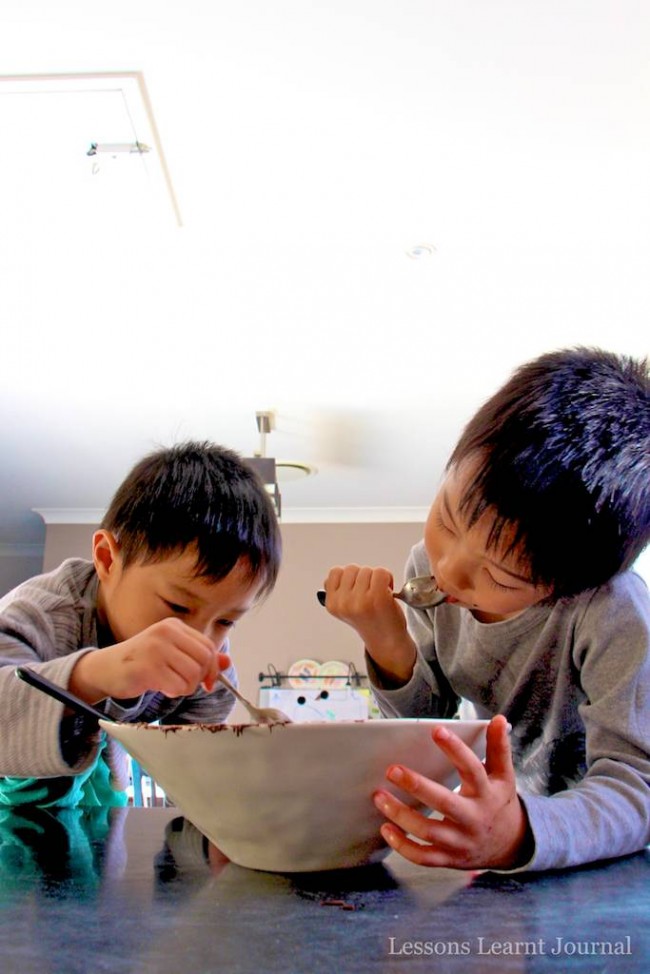 A note of warning about our Fathers Day Rocky Road recipe. It is packed to the brim with those yummy nibbles – just the way hubby likes it. We used just enough melting chocolate to fold everything together and set it in a small cake tin to make sure we could cut out nice chunky pieces.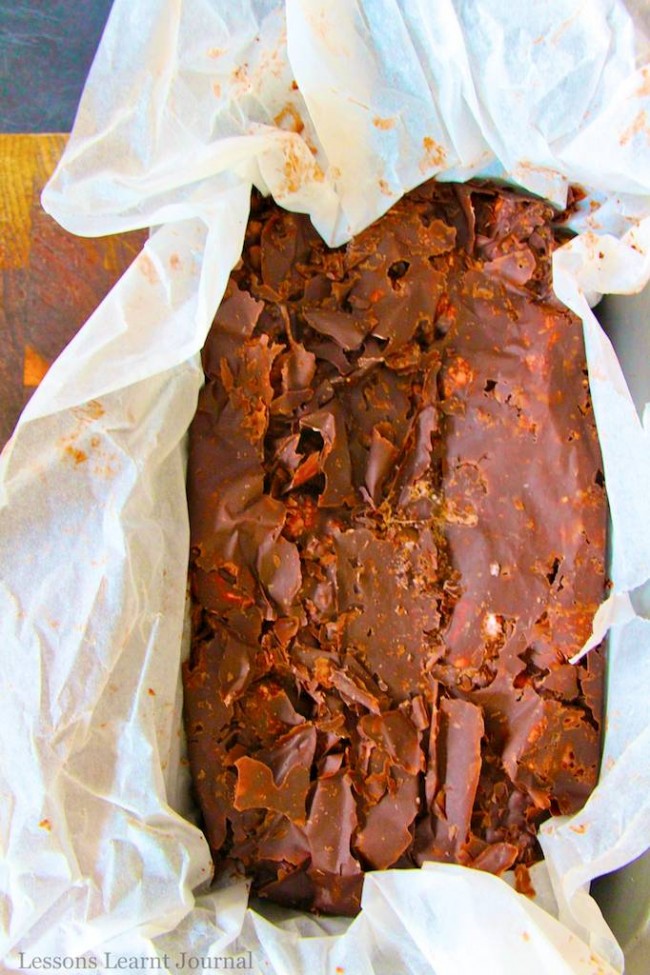 Best fathers day ever, is what I imagine hubby saying when he devours this rocky road.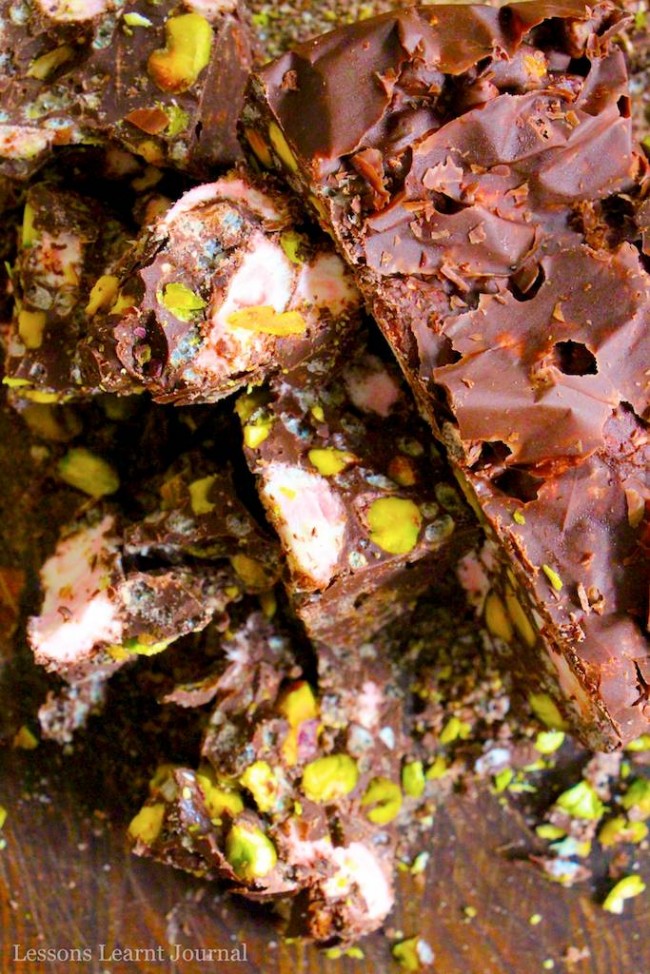 What will you be putting in your Fathers Day Rocky Road?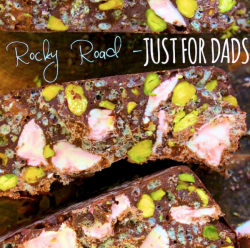 Fathers Day Rocky Road with Pistachios, Rice Bubbles & Toblerone
2013-08-02 01:21:31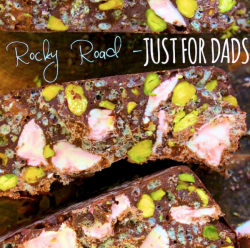 Serves 50
Rocky road, just for Dad. Filled to the brim with pistachios, rice bubbles and Toblerone - just the way he likes it.
Nutrition Facts
Amount Per Serving
* Percent Daily Values are based on a 2,000 calorie diet. Your Daily Values may be higher or lower depending on your calorie needs.
Ingredients
160g Pistachios
375g Dark chocolate baking melts
100 g Toblerone
80g Pascall Mallow Bites, Swirls, Berry Delights
32g or 1 cup of Rice Bubbles
Instructions
Cut up the Mallow Bites and Toblerone.
Place the dark choc melts in a large bowl and melt, by placing the bowl over a pot of hot water.
Remove dark choc melts from heat once the dark chocolate has melted.
Add pistachios, Toblerone, Mallow Bites and Rice Bubbles to the melted dark chocolate.
Lightly fold the mixture and place it in a small cake tin lined with baking paper.
Place in the fridge and let it set, (this will take a few hours).
Once set, cut into large slices, roughly 2cms thick, then 1 inch squares.
Lessons Learnt Journal http://lessonslearntjournal.com/
If you enjoyed this post, please consider leaving a comment; I'd love to hear from you. If you are new here, you might like to receive updates direct to your email. We have many fun ideas to share.
N&M: 5 years, 2 months
August 2013