I tell my kids many things. "Try it, you might like it," is a common one at meal times when noses are turned at the sight of veggies or meat; (my brood only consume pasta, breads, rice and potato chips). Feeling like the hypocrite as I turned up my nose up at a bag of rocky road, I decided to try some. And you know what? I tried it, and golly! This gluten free rocky road with Toblerone and Red Frogs, is so good!
I have never liked rocky road because I don't like the squishiness of marshmallows… (and I wonder where my Mr M gets his squishy food aversions from?!). But this gluten free rocky road with Toblerone and Red Frogs, has Toblerone and Red Frogs!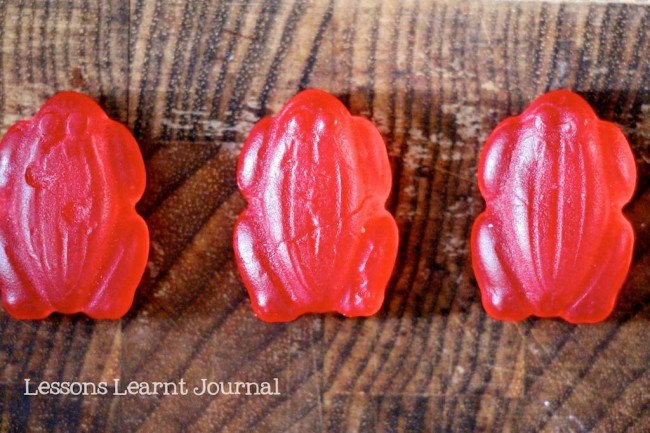 I remember buying Red Frogs from the school canteen for 5 cents back when I was in school. Or maybe it was 2 cents? Remember when they had those copper 1 cent and 2 cents coins? Anyway, the Red Frogs were the best! Haven't had them in decades (*cough* feeling my age just typing that). The Red Frogs are still yummy!
Add those Red Frogs with some Toblerone and you have a genius rocky road. Genius. So simple and so delicious.
Mr N and M have been nagging me to bake with them. Though this isn't quite baking, they weren't complaining as they got their share of left over chocolate bits from the bowl. They have now added rocky road to their cooking vocabulary of pancakes, brownies, cookies and cupcakes.
Now I'm bracing myself (and my waistline) for more nagging to make rocky road. This is the life of a mum; things they don't tell you about before you have kids.
What about the life of a mum or dad, weren't you told about?
Gluten Free Rocky Road with Toblerone and Red Frogs
2013-07-15 21:44:01
Serves 40
This gluten free rocky road with Toblerone and red frogs converted a once rocky road avoider. Seriously simple. Seriously delicious.
Nutrition Facts
Amount Per Serving
* Percent Daily Values are based on a 2,000 calorie diet. Your Daily Values may be higher or lower depending on your calorie needs.
Ingredients
200g Toblerone
250g Pascal's Pink & White Marshmallows
190g Allen's Red Frogs
750g Nestle Milk Choc Melts
Instructions
Cut up the frogs, marshmallows and toblerone.
Place the choc melts in a large bowl and melt, by placing the bowl over a pot of hot water.
Add the frogs, marshmallows and toblerone to the choc melts.
Lightly fold the mixture and spread it out onto a flat tray, lined with baking paper.
Place in the fridge and let it set, (will take a few hours).
Once set, cut into 1 inch square chunks & devour.
Adapted from Lisa, soon to be mother of "Spring Blossom"
Adapted from Lisa, soon to be mother of "Spring Blossom"
Lessons Learnt Journal http://lessonslearntjournal.com/
Many thanks to my dear friend Lisa, who is generously knocked up a yummy batch of these at her baby shower and shared the recipe with me. Thinking of you and the exciting weeks ahead! xo P
If you enjoyed this post, please consider leaving a comment; I'd love to hear from you. If you are new here, you might like to receive updates direct to your email. We have many fun ideas to share.
N&M: 5 years, 1 month
July 2013