(A version of this post was originally published on KidsActivitiesBlog.com)

A bubble shooter: a brilliant mechanism combining bubbles and the act of shooting. If you want to capture my boys attention and have them happily playing outdoors, a bubble shooter is the answer.

This Do It Yourself Bubble Shooter was borne out of desperation. At one time we had many bubble wands. They have since disappeared into their secret hiding places somewhere in our garden. No matter, this Do It Yourself Bubble Shooter is so easy to make that any home without bubble wands will probably never have to buy another bubble wand again.

To make your Do It Yourself Bubble Shooter, you'll need some straws and rubber bands. Take a bunch of straws together and tie them together with a rubber band. If you don't have rubber bands within easy reach, use some masking tape or sticky tape to combine the straws. You can also cut straws to a shorter length; this may be very useful if you don't have many straws and many children.

Mix up a batch of bubble solution, (we love our DIY baby bath bubble solution), and blow away.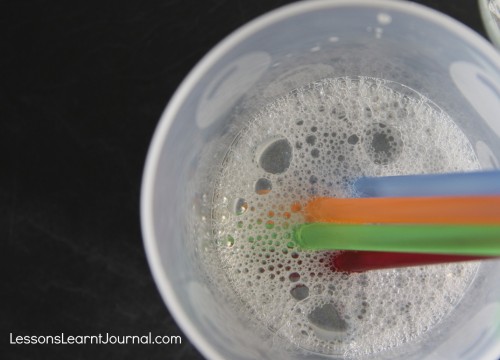 This play is really satisfying for children as they make lots of bubbles with each breath.

You can easily extend and vary this play by :
– Making some bubble art;
– Lining up some toys and shooting bubbles at them;
– Playing musical bubbles (only shoot bubbles when the music is on);
– Counting the number of bubbles you've blown, (you'll need to be quick);
– Having a competition and see who can blow the furthest bubble.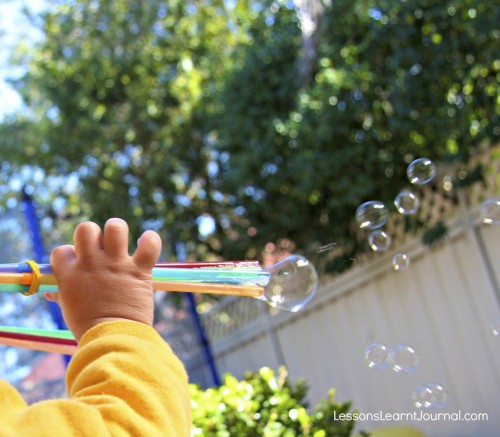 Sitting on the garden step with your brother; blowing bubbles through your bubble shooter; enjoying the warm sunlight; enjoying one another's presence; and all this done whilst you're still in your pyjamas.

Don't overlook the simple joys of life.

Wishing you and your family happy bubble shooting.
N&M: 4 years, 2 months
E: 2 years, 1 month
August 2012