When I have to say "The Book Depository", I make myself pause. I have to run the name through my mind a few times before hand because for some reason my first attempts of the name result in "The Book Suppository". Now there's a concept, (eww). All that to say, I need to cull my books wish list down. I'm finding it very difficult because our new reading routine is working very well and there are just so many interesting books out there… AND The Children's Book Council of Australia have just announced their winners for 2011.
Here are the books we read last week.
Hairy Maclary from Donaldson's Dairy by Lynley Dodd. This is the second book we've read in the Hairy Maclary series. Perhaps we should have read this one first as the main characters are introduced in this book. This story, like all the other Hairy Maclary books, has a great rhythm to it. There's enough interesting vocabulary in it whilst still being short and interesting enough for the attention spans of young preschoolers. What I adore about the Hairy Maclary series is that the stories aren't just filled with words that rhyme just for the sake of rhyming. It's an authentic text. The characters are developed, there is a plot, there is a witty end and all wrapped up with a wonderful sense of  humour. By the end of the week, N & M were joining in or finishing off the rhymes. Books from the Hairy Maclary series will certainly be staying on my wish list.
Hunting for Dragons by Bruce Whatley. A wonderful book where readers are invited to hunt for dragons themselves throughout the story. A young girl hunts for dragons and finds them all over her home – e.g. in the kitchen pantry, laundry, living room, her brother's room, etc. The illustrations of ordinary items cleverly conceal dragons. N found one I didn't notice – and it felt surprisingly great to be outsmarted by my preschool child. So inspired by the book were N & M that during their free play they found their imaginary dragon in our corridor and brought water and food to it and put a blanket on it to tuck it in for its nap time.
I am the Music Man by Child's Play. A fun songbook. N & M enjoy the actions. There are cut out windows on each page, each revealing a new instrument for a particular verse of the song. N & M enjoy the books with holes from the Child's Play series, and we have most of their range of songbooks in our library. I need to find more songbooks. Any suggestions?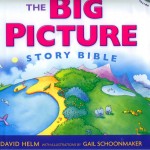 The Big Picture Story Bible by David Helm with illustrations by Gail Schoonmaker, Life Outside the Garden Part 3. This chapter covers the results of man's disobedience and rejection of God. Unlike most children's books that cover the Noah & the flood story, there isn't a lengthy description of the types of animals that went on the boat (two by two). Instead there is a double page spread covering the flood with a picture of the whole earth submerged with water and people and animals, (albeit stick figures), floating under the surface (dead). The chapter ends with the reminder that God will judge and we all need God's grace. How sobering.
** Read about the whys and hows of our weekly books routine by  clicking here. **