YMCA building; industrial sized kitchen; long summer school holiday; sweet delicious chocolate syrup; delicate coconut flakes; fluffy sponge cake. These are my memories of making lamingtons as a child. Twenty (plus) generous years later, my two year old son makes his first lamingtons.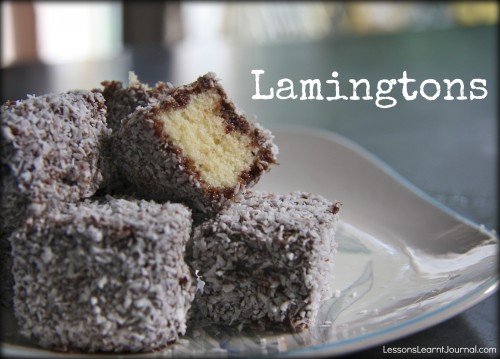 Ingredients:
You can bake your own sponge cake or take the perfectly acceptable shortcut of using a store bought sponge cake. (I go for the short cut every time). For the icing you'll need 2 cups icing sugar, 1/2 cup cocoa powder, 1/3 cup milk, 10g melted butter and 250g desiccated coconut (to roll the cake in).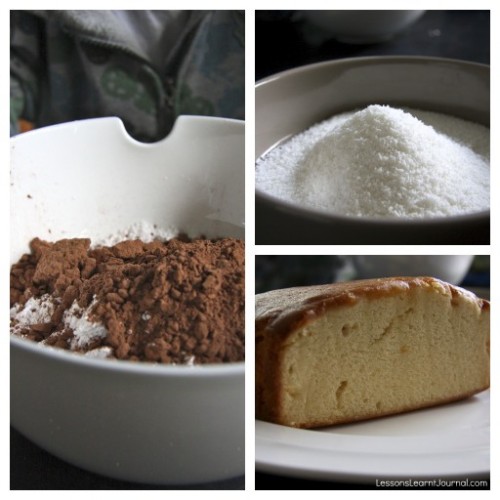 Method: 
Cut the sponge cake into bite size squares for icing.
Place icing sugar, cocoa, milk and melted butter into a large bowl and stir. Microwave the icing mixture on a low/medium setting until it thickens.
Using a skewer or small fork, dip the bite size sponge squares into the chocolate icing. Let the excess icing drip off the cake. Roll the chocolate covered cake in a plate of coconut until well covered.
Place on baking paper or waxed paper to set.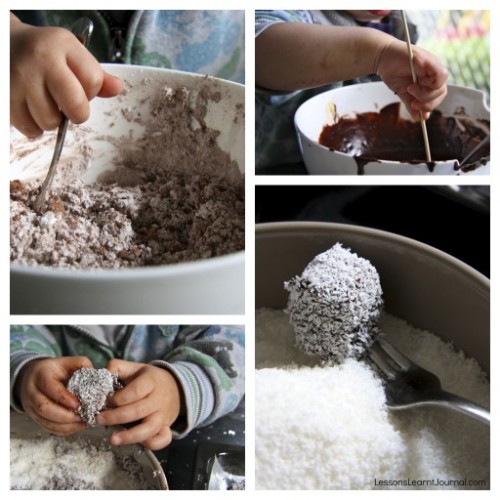 Notes from the trenches:
This toddler friendly recipe is delightfully messy, (just like many toddlers).
E: 1 year, 11 months
June 2012