Winter has arrived in Sydney. It's been windy, cold and wet. My kids have muted their cries to go and play outdoors. It must really be windy, cold and wet! While I scan the skies for a sunny patch of sky (or dry pavement in our grassless garden), we've immersed ourselves with indoor play.
Here's my favourite Instagram of the Week. I've started to explore drawing with one of my four year old sons. I love that he enjoys drawing, (even if it's only for five minutes). I look forward to many shared drawing sessions.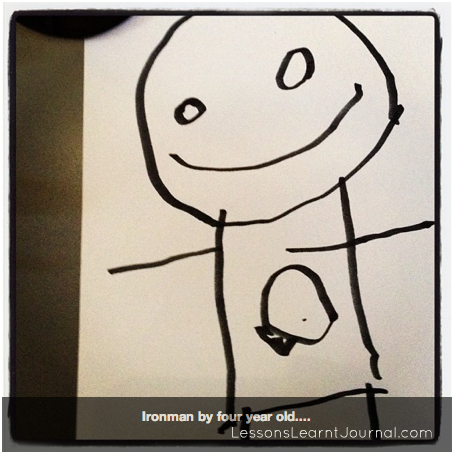 While we're wrapped up in our Winter woolies over here, I can't help but notice that many of you are having a ball of a time enjoying Summer. (Wooly bound me mutters, "There is a time for everything.") Living vicariously through our northern hemisphere friends, here are some great Summery posts from last week's Weekly Kids' Co-op:
Were you featured today?
Please take a "Featured at Lessons Learnt Journal" badge from the sidebar.
What will you share this week?
Take a "Come and Play at the Weekly Kids' Co-op" badge from the sidebar and link up.
The Weekly Kids' Co-op is co-hosted by a group of 50 fun kids' blogs. Add your child-focused link here and we'll share your idea across all of our child-focused blogs. We'll pin the best on our very popular Weekly Kids Co-op Pinterest board (which has over 230,000 followers). Don't forget to follow The Kids Co-op on Facebook.
June 2012