I stumbled upon a great looking art project: How to Paint Spring Trees from that artist woman. The picture from that artist woman of her finished art work looks fantastic, but I reminded myself to be realistic with my expectations of  our finished product. The process and the time spent working on this with N&M was more important – (though it would  be nice to have something that resembled a tree too).
First, we did a very watery painting for the background.
Next, we used a spoon and straws to create our tree trunks and branches.
Blowing watery acrylic paint through the straws was hard (and slobbery) work.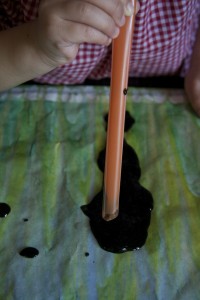 M found using a spoon to scoop and dump the paint on the paper much more efficient.
N had no interest in working on his painting so we were down to one art work now.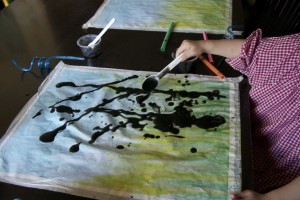 After our tree trunks and branches dried, we used cotton tips to paint the leaves and blossoms on our tree. N & M (and I) took turns working on this. There was much area for our little cotton tips to cover.
Our Spring Trees!
We did it. It took us three days involving three short sessions. We talked about where the sky is, where grass is, what a horizon is and the different parts of a tree. We explored and tried out different painting techniques. This is our most involved art project to date and it's shown me how much N&M have grown. It's exciting and amazing to reflect on the nature of time.
Lesson learnt: number my days that I may have a wise heart.
N & M: 3 years 4 months
This post was shared in the following linky parties:
No Time for Flash Cards Link & Learn