Ingredients

Makes about 1.2L of bubble solution
2 cups dishwashing liquid
4 cups water
1/2 cup glycerol
A few notes about the ingredients:
I used a cheap dishwashing liquid (Morning Fresh) from the two dollar shop. Coincidence would have it that it cost me $2. Ha! Bear in mind the dishwashing liquid's colour and fragrance as this will be what your bubble solution will look and smell like.
Use distilled water, (bought from the chemist), instead of tap water. The softer the water, the better your bubbles will be. I haven't tried normal tap water yet, but a quick surf around the web shows that tap water also works.
Glycerol (also bought from the chemist) helps the bubbles last longer. If you don't have glycerol, you can use sugar instead.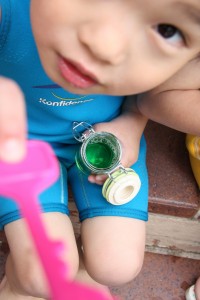 Regarding the amounts of dishwashing liquid, water and glycerol, the rule is, the closer it is to having equal parts of everything, the more longer your bubbles will last. So, if you made a batch of 1 cup dishwashing liquid, 1 cup water and 1 cup glycerol you would have a long-life bubble solution. I.e. if you could contain your bubble somehow and keep it from drying out it could potentially last months. Wow!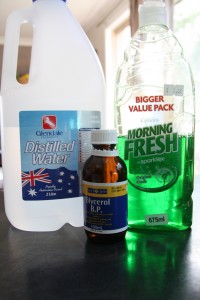 Method
If using sugar instead of glycerol, warm up the water. Gently mix all the ingredients together and leave it to sit in an open container. The longer you mix the solution and the longer you leave it, the better the solution will be.
 N & M: 3 years, 7 months
E: 1 year, 6 months
K: 1 month
See our own Bubbalicious Spring Greetings for our creative bubble play ideas.
This post was shared in the following linky parties:
It's Playtime
For the Kids Fridays
Baby Play Friday
Play Academy
Sunday Showcase
Sharing Saturday