I have a confession: I am a rush through the book type of book reader. Actually, I'm a rush through everything type of person, but books in particular. I am not one to dwell and immerse myself in a book. This trait of mine sees me rushing through our family reading time, especially at the end of a long day when all I want to do is put the kids to bed and head to bed myself.
I have another confession: I hoard teaching resources.  I just dug out a book purchased about a year ago: Weitzman, E  & Grenberg, J 2010, ABC and Beyond: Building Emergent Literacy in Early Childhood Settings published by the Hanen Early Language Program, Canada. What an awesome resource. I will be picking bits and pieces from it to help me be more intentional in our family reading time.
My challenge for this coming week is to turn book reading into a conversation. My aims:
Observe, Wait & Listen
Strive for 5 turns in a conversation (i.e. child says something, I respond and turn back the conversation, he/she says responds, I respond, he/she responds)
Ask questions that are: sincere,  follow the child's interest, encourage children to think and give opinions ("What do you think will happen if?", "Why is he…?", "What would you do if…?"
The above requires much change on my behalf. I need to follow the child's lead in conversation, even if it seems off topic. It also requires more time. I look forward to sharing with you next week how our conversations during book reading has changed.
Now back to books we read last week. We were swamped with overseas guests because of a fantastically fun family wedding. We had some fantastically fun books to match and are so glad to share them with you because we loved them all. (I have marked our highly recommended books with an * and added them to the
Lessons Learnt Journal Favourite Books List
).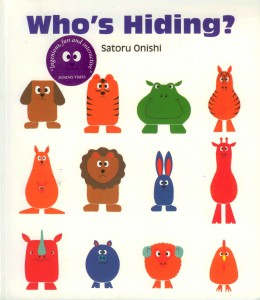 Who's Hiding? by Satoru Onishi*. Brilliant, brilliant, brilliant book. It's been described as ingenious, fun and interactive by the Sunday Times, and honestly, it is. It's a picture book containing an array of animals on each double page spread. On each page a question is asked like "Who's hiding?". Certain animals are camouflaged into the background with only their eyes or other specific features showing, and children are challenged to figure out who's hiding. Our favourite question is "Who's backwards?". N&M love to figure out whose tails & bottoms they can see. They even cheekily turn backwards and ask me "Who's backwards?"
Hattie and the Fox by Mem Fox Illustrated by Patricia Mullins*  "Goodness gracious me! I can see a nose in the bushes!" "Good grief!" said the goose, "Well, well!" said the pig. "Who cares?" said the sheep. "So what?" said the horse. "What next?" said the cow. I am positive that this book is in every infants classroom in Australia. A classic story with lots of repetition and illustrations to engage even the most reluctant reader.
Gossie & Gertie by Olivier Dunrea* Our dear Gossie. We love Gossie. Cute and funny Gossie is followed by an equally cute and funny Gertie everywhere she goes….. sometimes? Even when Gossie gets cross, she seems so cute. This series will be staying on our shelves for quite some time.
What are you reading this week? How do you foster conversations during book reading? Share the love and leave a comment, and don't forget to check back for responses. Happy book reading and conversations till next week.
N&M: 3 years, 5 months
E: 16 months
Check out our Lessons Learnt Journal Favourite Books List.
Read about the whys and hows of our weekly books routine.
We are part of the following book sharing parties: