I'm a "How I Met Your Mother" fan. When E and K were born, some very sweet friends gave me the series on DVD. I'm still yet to watch the latest season that has been released on DVD. I save my viewing times to when I have to fold mountains of laundry on a Friday night with my husband – – – ha ha ha – our date nights have morphed a bit over the last few years. Anyway… all that to say, Ted from the series is an architect and he has me wondering if there are tell-tale signs of a kid destined to be an architect. I wonder if building blocks are a favourite toy perhaps?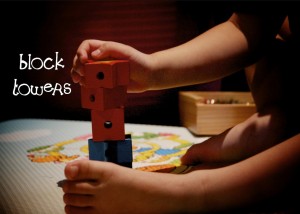 When it comes to play, building block towers is classic KISS (keep it short and simple). Don't let the simplicity of building block towers deceive you though – it's fantastic for building up fine motor skills.
It's great practise for:
Using both hands together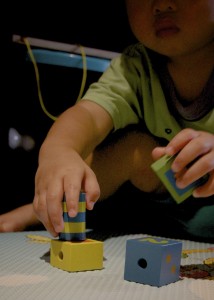 Precision placement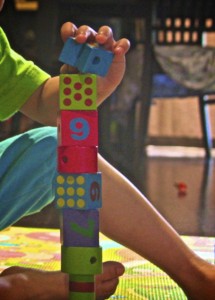 Radial digital grasp – (grasping an object with the thumb, index and middle fingers without the use of the palm).
Here are some ways to extend the play:
Have races against each other, trying to be first to build a tower of 10 blocks
Build towers with eyes shut. Locate the blocks and then orient and place blocks with eyes closed throughout.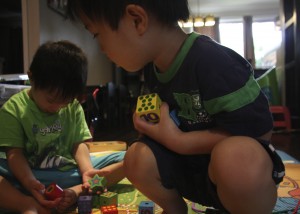 Check out other Short & Simple play ideas.
N & M: 3 years, 8 months
E: 1 year, 7 months
This post was shared with