We're a family of six. There's a Dad, Mum, and four kids. My children have squabbles, (potentially many); usually over space and wanting the same thing, at the exact same time a sibling is using it. Distraction works sometimes – "Oh, look at that!", "Please come here and help me with this", "… a lizard!!".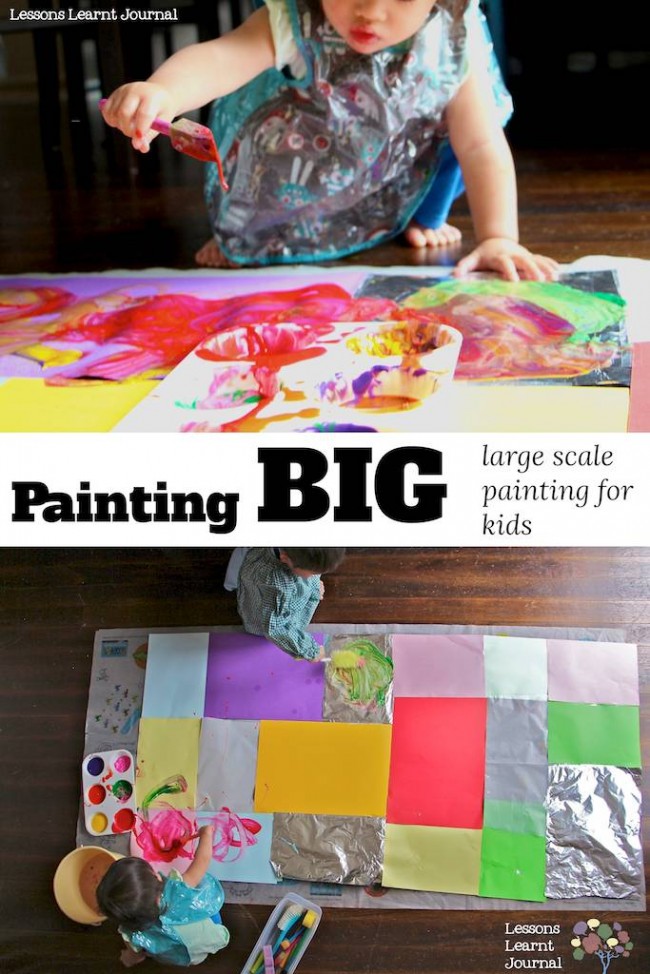 Something else that works: upsizing – more space, more options, more invitations to play in a given area or activity.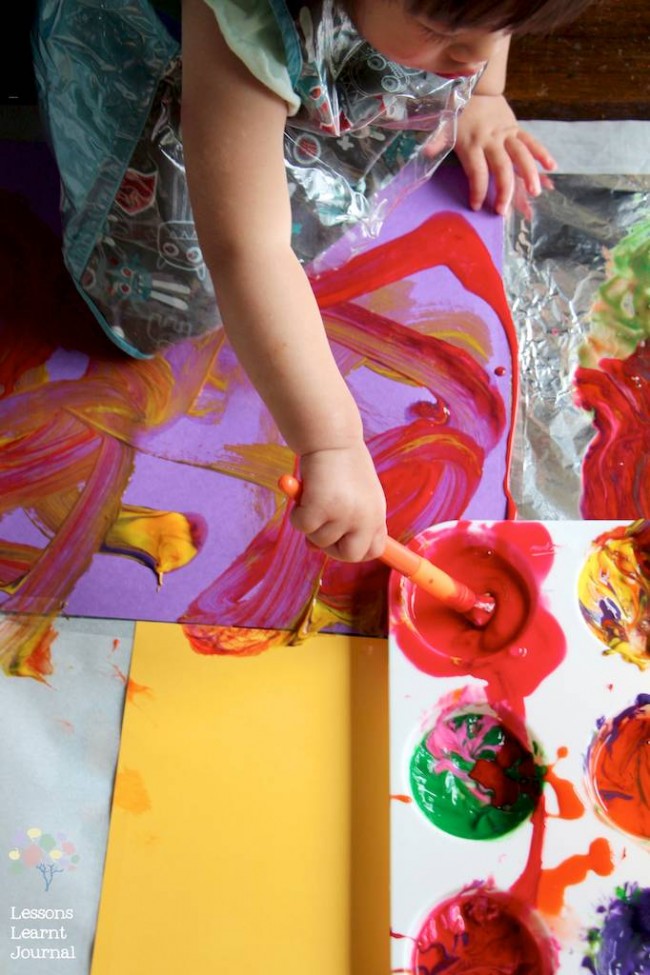 Art Project for Kids: Paint It Big.
Here's an art project for kids, exploring large-scale painting.
1. Make a patch quilt canvas for the art project: Tape together various types of surfaces. Use different colours, textures and sizes where possible, e.g. aluminum foil, baking paper, cardboard, paper.
2. Prepare for a messy art project: Lay down a splash mat underneath your patch quilt canvas. Dress kids in a painting smock or old clothes. Have a small wash towel and a bucket of water nearby.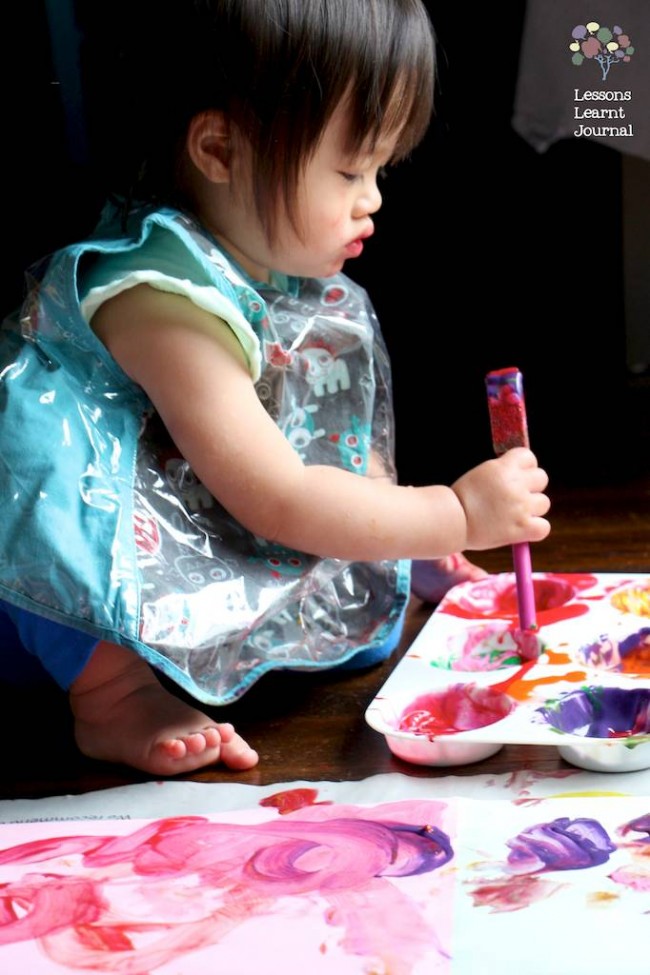 3. Provide interesting materials to explore: Along with different coloured paints, scrounge around for different tools to paint with. We focused on painting in this particular session and used sponges, brushes, bottlebrushes, old nerf gun bullets, plastic forks and spoons. You could also print with various toys, use bingo markers, stamps, sticks; or draw with chalk, crayons, cotton swabs, pens, oil pastels, etc.
In this particular art project exploration, we only up scaled our canvas. It would be fun to use various large-scale things to paint with as well. I've seen some awesome huge DIY paintbrushes / (mops, really).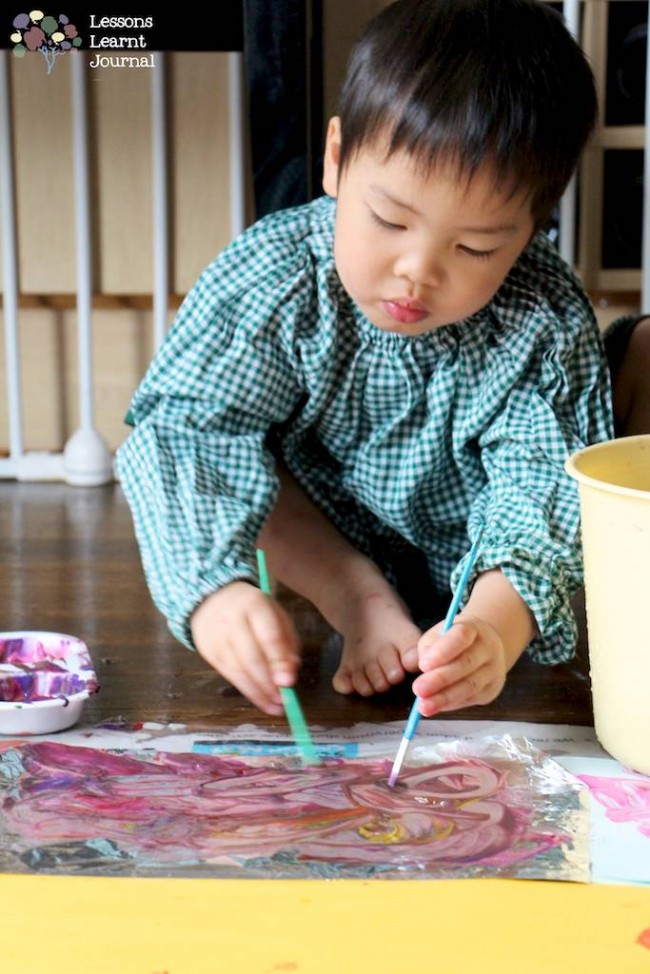 Miss K (2) and Mr E (3) had a wonderful morning exploring and creating their large scale painting together. They did the whole art project without a single squabble.
Have you up-scaled an art project for kids? What is your favourite large-scale play?
More Activities for Preschoolers
Three to Five: Playful Preschool is stuffed to the brim with tried, tested and loved playful learning ideas for preschoolers. There are 25+ ideas for preschoolers, ten printable resources and additional links to over 50 more activities. A great resource for parents. Download your copy here.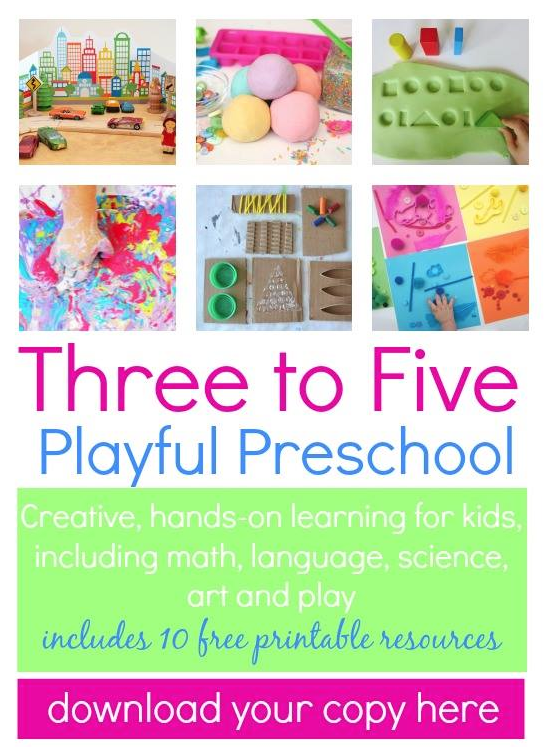 K: 23 months
E: 3 years 4 months
October 2013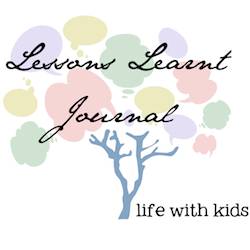 If you enjoyed this post, please consider leaving a comment; I'd love to hear from you. If you are new here, you might like to receive updates direct to your email. We have many fun ideas to share.