You know you've got something really special when you've got something that's helpful and your kids are asking for more of it. E.g. exercise, playing with friends, vegetables (well… in the case of my kids, I can dream about this one).

We have been playing this particular maths game (pictured above) and they've been asking to play more and more of it, (**insert mini victory dance here**). I haven't posted it up on the blog yet, but hope to soon.

To help encourage children's maths concepts in useful and fun ways, because play matters, I've also put together a list of 20 useful math games. A good few are new to us and I am ever so keen to introduce them to my kids.

Happy playful learning!
Activities for Children: Maths Games
←
Dinosaur Numeral I.D. & Counting
by Lessons Learnt Journal

←
Dice Bingo
by Lessons Learnt Journal

→
Patterns & Algebra with Block Printing
by Lessons Learnt Journal

←
8 Math Ideas Using Toy Vehicles
by The Measured Mom 

←
Number Deliveries
by Taming the Goblin

←
2 Part Shape Puzzles
by Moms Have Questions Too

←
Ladybug Counting Game
by B-Inspired Mama

←
Helping Hands for Skip Counting
by Boy Mama Teacher Mama

←
Make it 5!
by Playing and Learning Begins at Home

←
Learning to Measure
by An Everyday Story

←
Measuring Game
by El Hada De Papel

→
Acorn Number and Balancing Game
by Learn with Play at Home

Have you been featured this week? Please take our Featured at Lessons Learnt Journal badge.
Most of these ideas are from our Kids' Co-Op. If you have a child focused post to share, be sure to come back and visit the Kids' Co-Op link up here at Lessons Learnt Journal, (published and live here every Wednesday at 10PM CST or Thursday 2PM AEST).
More Activities for Preschoolers
Three to Five: Playful Preschool is stuffed to the brim with tried, tested and loved playful learning ideas for preschoolers. There are 25+ ideas for preschoolers, ten printable resources and additional links to over 50 more activities. A great resource for parents. Download your copy here.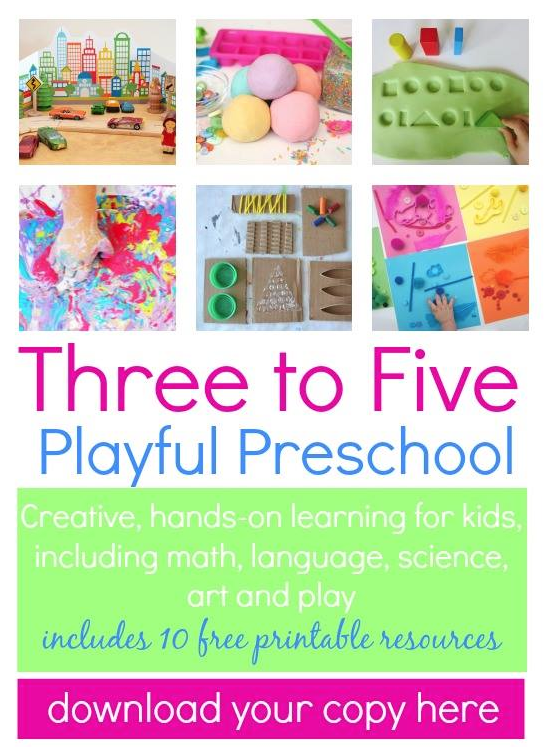 May 2013