The ABCs of Me: Meet the bloggers behind the blogs.
I am pleased to introduce to you Ness from One Perfect Day. I first fell in love with One Perfect Day's wonderful rainbow cupcakes. How could I not love the creator of such colourful delights? As I delved further into One Perfect Day, I grew fond of Ness' ability to blog honestly about her parenting journey. I'm sure you will be smitten with One Perfect Day in no time.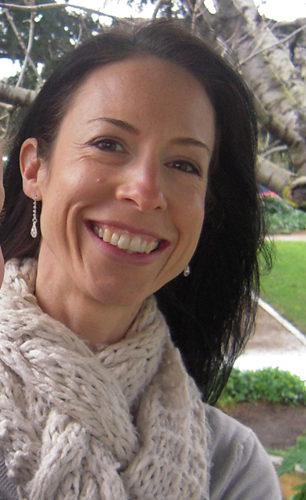 Ness from One Perfect Day
Age: 40 (it was my birthday just last last week in fact!)
Bed Size: Well the tag says Queen but when our son joins us every morning it feels more like a single.
Chore that you hate: Grocery shopping. I find it exhausting! Planning, shopping, packing it away….
Dogs: None. Although my son has been asking for a puppy so that may change soon. (He also wants a rabbit a frog!)
Essential start to the day: Cuddles and Coffee (lots and lots of coffee!)
Favourite colour: This changes often for me. Lately it's been turquoise and silver.
Gold or silver: White gold
Height: 169cm
Instrument you play: I played piano when I was in high school. I really should take it up again.
Job: SAHM and freelance writer
Kids: R, my son, is 3.5 years old.
Where do you Live: Australia
Favourite Movie: I wish it was something a little more highbrow, but if I had to pick just one, it would be Love Actually. I watch it every year at Christmas and it makes me cry every time!
Nickname: I've never really had one.
Overnight hospital stays: When my son was born I spent several nights in the hospital as he was jaundiced and was in intensive care.
Pet Peeve: Arrogance
Quote: To ease another's heartache is to forget one's own. Abraham Lincoln
Right or left handed: Left
Siblings: 1 older sister
Time it takes you to get ready: I have it down to a fine art these days. Shower, hair, make-up all done in under 10 minutes. (Notice I said done, not done "well".)
Underwear: Usually. (Kidding, kidding!)
Vegetable you hate: Brussel Sprouts.
What makes you run late: Three year olds.
Xrays you've had: Quite a few actually. Most recently my fingers after I slammed them in a door. (No fractures found)
Yummy food that you make: Desserts are my thing. I make a stellar Pavlova.
Zoo animal: Any of the big cats.