During our [a] is for chocolate fairy apple activity, I discovered that involving the taste buds of my children is an easy way to engage them in a learning activity. This week they were in for a treat as these characters would be key to our lesson.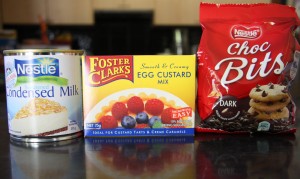 This week we're learning about the letter [m]. We started off rainbow writing the letter [m] using our texta silk crayons.
We then moved our rainbow writing onto more unconventional mediums.
We scooped some sweetened condensed milk onto baking trays and practised writing the letter shape of [m]. It's a tricky letter shape to learn as it involves hops, not just simple lines and circles. We're still working on it.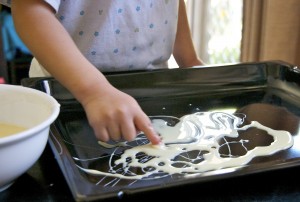 N & M have never tasted sweetened condensed milk before. They were blown away.
MMMMMMM
More Milk? Yes. More. Milk.
More m's.
Mmmmmmm
Then I gave them some melted chocolate to add to their trays.
Last but not least came the bowl of warm custard.
They delighted in mixing all three wonderfully sweet ingredients as they practised their rainbow writing of [m].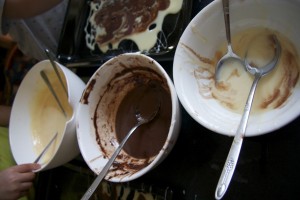 (There may have been more tasting than rainbow writing.)
Simple ideas for introducing [m]
Show children a written lower case [m]
Model the mouth movement and sound [m]
Visually connect the picture/word "mix" with the letter sound [m]
Kinaesthetically simulate a mixing action. Close fist and move it in a circular action.
N&M: 3 years 5 months
This post was shared in the following linky parties:
Today at Play
It's Playtime
Kids Get Crafty
TGIF
Sunday Showcase
Play Academy
Crafty Moms Share Sharing Saturday
Link & Learn