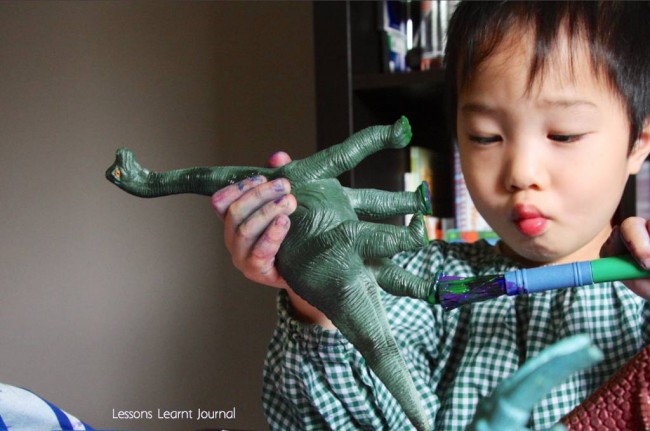 Paint it! That was Day 20's Challenge from the 30 days to Hands on Play hosted by the Imagination Tree & Hands On: As We Grow. Here's how we played.
We started with some marbles, paint, baking trays and coloured paper.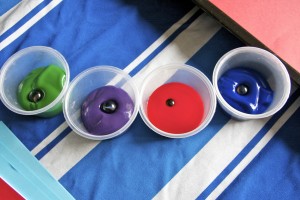 N & M have not tried rolling ball art before. I did a quick demo and they jumped straight into it themselves.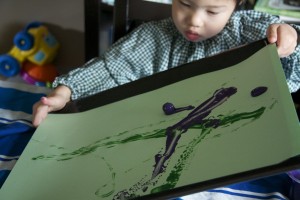 They had so much fun rolling one marble around, they decided to add more marbles to their trays.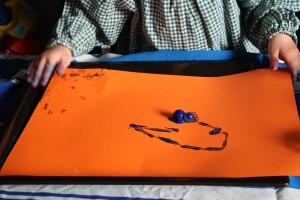 M moved onto using his hands. He experimented with different ways to move the marbles around: using a pinch grip and also rolling them around using his palms.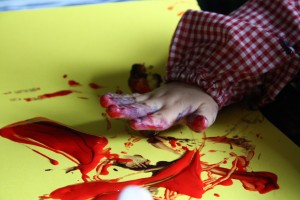 Then he left the marbles behind and decided to just move paint around with his hands – swoosh!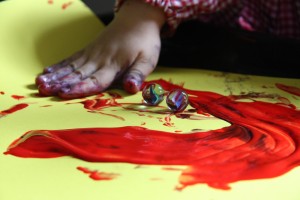 I then brought some dinosaurs to the table to join in the fun. I asked them to make some dinosaur footprints. Spoons and brushes were used.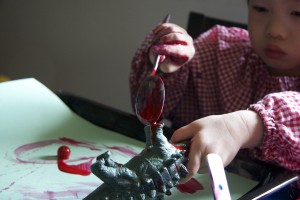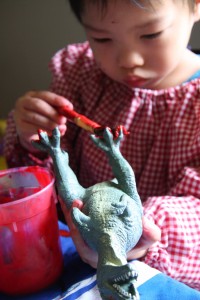 Stomp, stomp, stomp!
N had the brilliant idea to combine both rolling ball art and dinosaur fun.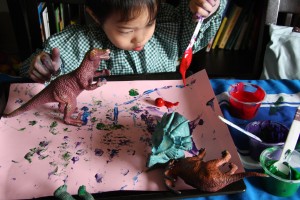 The dinosaurs had a wild ride.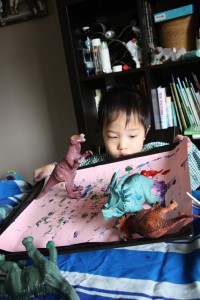 M decided to paint dinosaurs. His favourite colour at the moment is red.
(I think the expression on Mr. T-Rex is priceless.)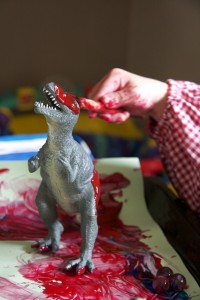 M changed his mind, cleaned up Mr. T-Rex,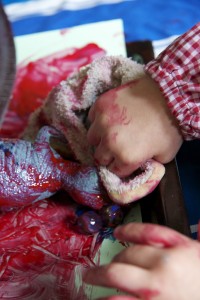 and painted him blue.
(Again, how fitting is the expression on Mr. T-Rex?)
The aim of this activity was to spend 15 minutes of uninterrupted time with my kids. We did that and so much more. By the time we had finished I was surprised to find that an hour had passed. We had so much fun playing together. Many skills were also practised through our play: fine motor skills, gross motor skills, life skills, language and creativity – all without the drudgery of dry drill & repetition. I could not have asked for a better morning.
N & M: 3 years, 5 months.
This post was shared in the following linky parties:
Today at Play
Kids Get Crafty
It's Playtime
TGIF
For the Kids Fridays
Play Academy
Sunday Showcase
Crafty Moms Share Sharing Saturday
No Time for Flash Cards Link & Learn
After School Linky Party