Batteries. Love them or loathe them, this household needs them. I have a difficult working relationship with the huge C and D batteries in particular. I loathe them because they are so expensive; but the toys they power are the ones my children have a special soft spot for. Our bubble machine is one such battery hungry toy. It's been months since it has made an appearance, so when I brought it out today, it was met with squeals of delight. I quickly mixed up a batch of baby bath bubble solution and magic! No more tears (excuse the pun). Happy children. Happy Mum.
Ingredients
1 part baby bath (I used a no more tears variety)
1 part water
Method
Place the ingredients together in a jar and shake it vigorously to mix.
How We Played
There was the usual waving of the arms and running around to pop bubbles, but the boys decided today that they wanted to catch some bubbles in cups too.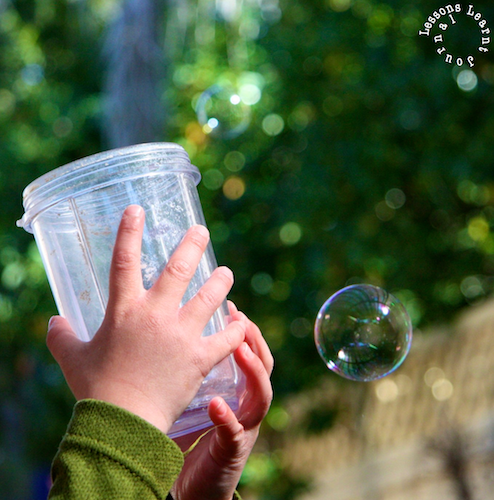 They tried and tried but could not catch any bubbles in their cups. What were they to do? Only what four year old and two year old boys could do; stomp on those bubbles (of course)!
Notes from the Trenches
The above solution of one part baby bath and one part water works very well. Consistently rich bubbles and lots of them. It works so well that I'm certain the 1:1 ratio of baby bath to water can be diluted slightly so you don't need to use quite so much baby bath, and still get lots of consistently rich bubbles.
The beauty of using a no more tears variety of bubble bath for this bubble solution is if it does get into their eyes, it's not so painful. And to top it off, I now have a garden that smells like baby bath; calming and delightful!
N&M: 3 years, 11 months
E: 1 year, 10 months
May 2012